For the last three years I've spent my Christmas in Chennai. Each year we went back to the Taj Connemara for their Christmas brunch, which is pretty good with all the turkey, roast vegetables, pigs in blankets and so on, but to do it again for a fourth year. Just no. Not again.
I told my wife that I couldn't do a fourth year in Chennai. I didn't care where we went, but we had to get out of the city. Fortunately she agreed and rather more fortunately, she works for the Hilton, so we fired up the staff rates website, filtered for South East Asia – and then sorted from Low to High. Yeah, whatever, don't judge me.
Colombo, Sri Lanka topped the list of cheapest places to stay. We ignored it. So yes, apparently I did care a little bit about where we went. Sri Lanka is basically India, right?
We scrolled through to the more interesting destinations like Singapore, Bangkok, Bali, Malaysia and Indonesia, all wonderful places where we could spend a fantastic Christmas. However after checking the flight costs to these countries we realized that it wasn't going to be the quick and cheap getaway we had hoped for.
Doing all kinds of crazy hacks and tricks on the airline sites didn't yield any results, the flights were still expensive. Air Asia kept touting 3,000 Rupee tickets to various Asian cities but damned if I could find the one flight where they were actually offering tickets at that price.
We regrouped and looked at the list again. Colombo called out from the top of the list, it sounded a lot like snickering. It knew that it was all we could afford.
If you didn't pick up it already, Colombo wasn't my first choice of places to spend Christmas. A beach resort in Bali? Yes. Christmas in Singapore, one of the most metropolitan city states in the world? Absolutely. Christmas in Bangkok? Why hell yeah! Colombo…hmm, isn't it owned by the Chinese or something?
It turned out that the executive chef at Hilton Colombo used to work at Hilton Chennai. He is British which meant my expectations for a quality Christmas dinner were suddenly raised to Christmas-dinner-cooked-by-my-Mum levels, and that was all I needed to start looking forward to the trip.
Landing at Colombo Airport was like landing at Heathrow in the summer. It was pouring with rain. Sri Lanka asks all tourists to register for a travel permit online prior to arrival, something that the airlines seem to conveniently forget about.
If you come from one of the western countries you are charged $25 for the pleasure. From India? That'll be just $15 please and thank you for topping up our foreign reserves account.
When you get to arrivals it becomes a little bit more apparent why the airlines forget to tell you about the travel permit requirement. Westerners, being westerners, clearly think that it's visa on arrival in Sri Lanka. It's not, it's a slap on the wrist and a small fine on arrival but go on you little scamp, go and enjoy the country and don't forget, Sri Lanka accepts dollars!
After booking our pre-paid non-a/c taxi, the driver loaded us in to a large mini van big enough to seat seven people. "Why don't you want air conditioning?" he asked, we're from Chennai we replied. We didn't need to say anymore, we got a look from him that basically said "oh, you poor things."
I was expecting many things from Colombo. Mostly I was expecting it to be like Chennai, it's only an hours flight away after all and Coimbatore or Madurai are basically like mini-Chennais.
What I didn't expect was a brand spanking new motorway to take us out of the airport towards Colombo. It was so new that someone had forgotten to tell the locals about it because it was empty. There was also a distinct lack of autos and motorbikes driving the towards the oncoming traffic, no people looking to kill themselves by crossing the motorway and shhh, listen…no car horns.
Hang on a second. I don't think Sri Lanka is like India. What gives?
The two lane motorway snaked its way through the country side. The signs were British in style and written in English, the road markings were very British, the crash barriers were British in style, hell even the landscaping around the intersections were very British. When did Sri Lanka become Great Britain? What happened to China?
"There will be terrible traffic." the taxi driver told us as we neared the city. We slumped in our seats, it was getting late and we wanted the perfect Serenity beds of the Hilton. And beer.
The terrible traffic turned out to be three cars, a bus and a couple of autos…which are correctly called tuk-tuks in Sri Lanka. India, please take note.
Wait, rewind, the three cars were all Toyota Prii (holy cow, Toyota actually had to do a survey to find out what the plural of Prius was…surely they should have known having invented the word?). Hybrids in Sri Lanka? Are we now in San Francisco? Why doesn't India have any hybrids?
The Hilton Colombo can be described in one word: Spectacular.
As we pulled in to the driveway, fairy lights gleamed from the landscaped grounds. In the lobby a gingerbread house had been crafted, giving off the unmistakable aroma of Christmas. In the bar a live acappella band was in full swing belting out Do They Know it's Christmas Time (I do! I do!), Winter Wonderland, Rocking Around The Christmas Tree and the old tear jerker, Silent Night. It was finally beginning to feel a lot like Christmas.
Feet tapping, beer in hand, the Serenity bed had been relegated to the bottom of my list of things to do that evening. At the bar I ordered a beef burger because, well, I wasn't in Chennai any more. Oh to eat such good beef after a long time. Thank you, Chef Daniel!
It wasn't long before the aforementioned Chef Daniel turned up at the bar. He's British and from Manchester so it was to be expected. He had an older gentleman in tow so while he went off to see to his kitchens and chit chat with the guests, I struck up a conversation with his friend.
I say conversation but that might be stretching the truth somewhat. A train wreck might have been more appropriate. I later had to apologize to my wife on behalf of all British people for the behaviour of this person.
This gentleman, it turned out, had had a very interesting life, working in all the popular tourist spots in the world like Libya, Iraq, Lebonan, Iran, Burma and of course Sri Lanka. To say he was opinionated about certain things would be like saying the Pope had some thoughts about the whole God thing.
It wasn't long, maybe just three or four margaritas actually, before he felt he could confide in me that everyone in Sri Lanka was, and I quote "fucking good for nothing lazy morons." I say confided, but the whole bar heard him telling me how awful Sri Lankans were, ranking them only slightly lower than the "bloody Indians, but at least they work hard" in his list of world's worst people.
It was at this point that I suddenly had intimate knowledge of what goes on in the mind of a rabbit caught in the headlights. My beer glass froze halfway from the table to my mouth. My brain was replaying what it had just thought it had heard.
Everyone in the bar was staring at us. Knifes were probably being sharpened. If this was a saloon in the wild west, the plinky plonky piano would have stopped playing, there would be the sound of chairs being scraped back and guns being cocked. Someone would then say "you callin' me yella?" before violently killing us.
My wife, using her womenly intuition, had earlier excused herself to "go to the bathroom" when in fact she had made a beeline for the room, which in hindsight is probably what I should have done. But we all know women are smarter than us men.
I tried in vain to get the gentleman to talk about his admittedly interesting life doing engineering projects in all the developing nations. It didn't work.
When Chef Daniel came back, the gentleman took a turn for the worse, which I didn't think was possible. He started laying in to the bar staff about how terrible the margaritas were, telling them that they were all useless and that he'll get them all fired. He demanded drink after drink, insisting that each one was worse than the last, with the chef getting increasingly agitated with each minute. In short, it was getting tense and I found myself looking for exit routes.
As the chef and the gentleman were arguing about how the staff couldn't make the perfect margarita I saw my opportunity to bail. I said the first of my apologies on behalf of all British people to the waiting staff, and went to find my Serenity bed. And to say sorry to my wife.
It turns out that Christmas Day in Colombo is a lot like Christmas Day in England. Wet and miserable. It was perfect. As I threw open the curtains in the morning, this was the view that greeted me.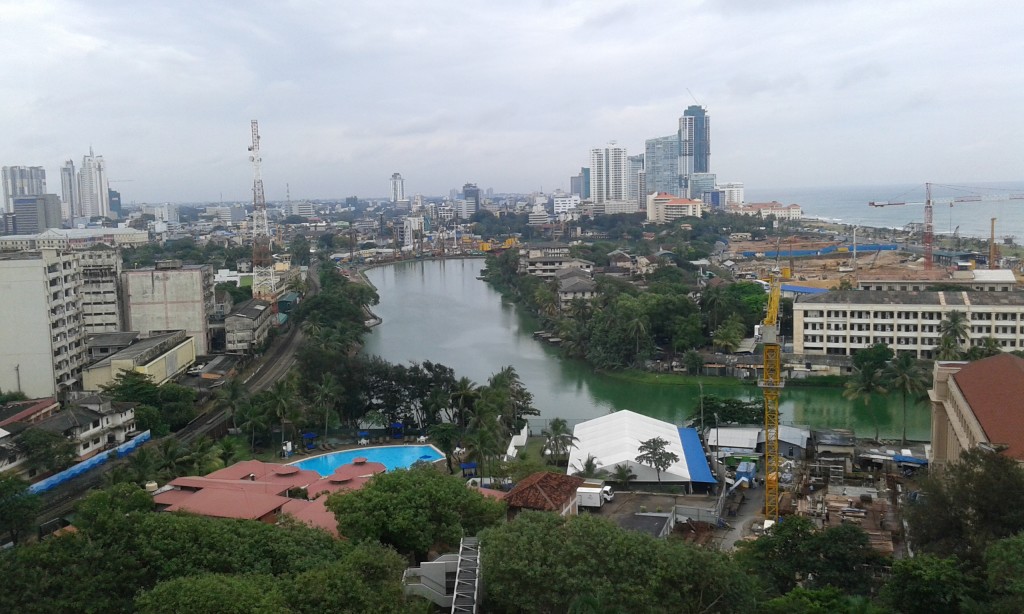 We decided to step outside for a bit and work up an appetite for the Christmas lunch that was about to follow. Way back in the day, a British chap decided that the sea front of the city would be complete with a promenade and esplanade like the English sea side towns that he clearly missed.
It was along this promenade that we walked. The attention that my wife received as she walked in her dress was zero, which was in sharp contrast to when she wore the same dress the other week in Chennai and damn near caused carnage on the roads as drivers rubber necked to see the bare naked calves of a woman.
The promenade had plenty of little stalls which sold snacks and soft drinks, but what was most striking was the complete lack of rubbish and litter that these places produced. The entire beach front was free of litter and bins were actually being used. Compare that with India where tourist spots are magnets for litter.
We had been in Sri Lanka for just 18 hours, but already it had seduced my wife. The complete lack of attention she received from the men, the lack of car horns on the road, how well maintained the place was not to mention the pristine pavements that are in sharp contrast to the sad excuses for pavements in Chennai.
Personally, Colombo already won me over with the beef burger and local Lion beer from the night before, but then I'm a little bit easier to please.
Christmas dinner turned out to be everything that I had hoped for. By that I mean there were pigs in blankets, brussel sprouts crunched and to top it off, real Christmas pudding with actual brandy butter. Heaven. Everything else was secondary. The turkey was perfect, there was fantastic roast veggies and more Lion beer came on tap.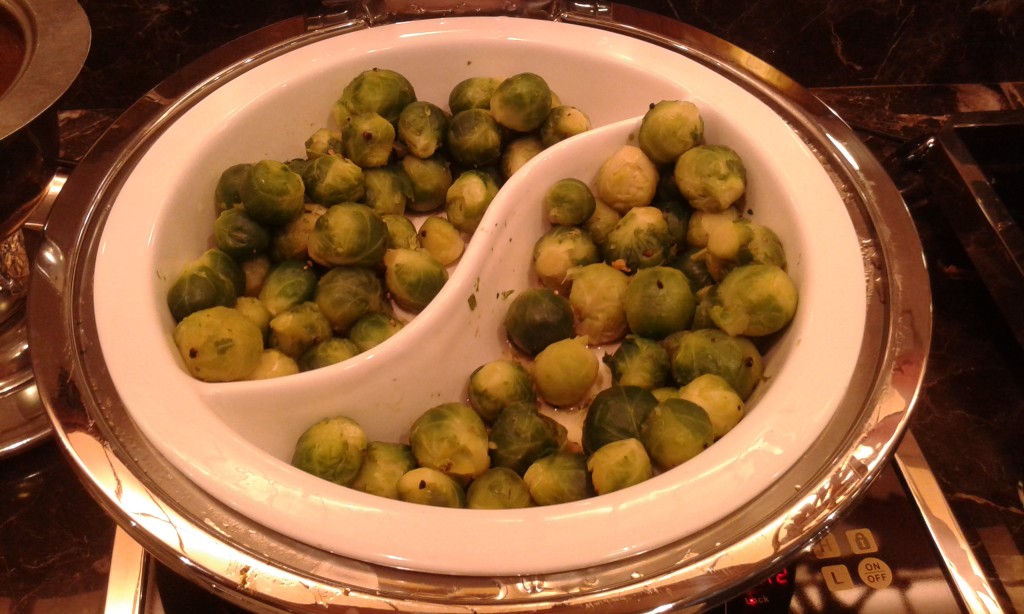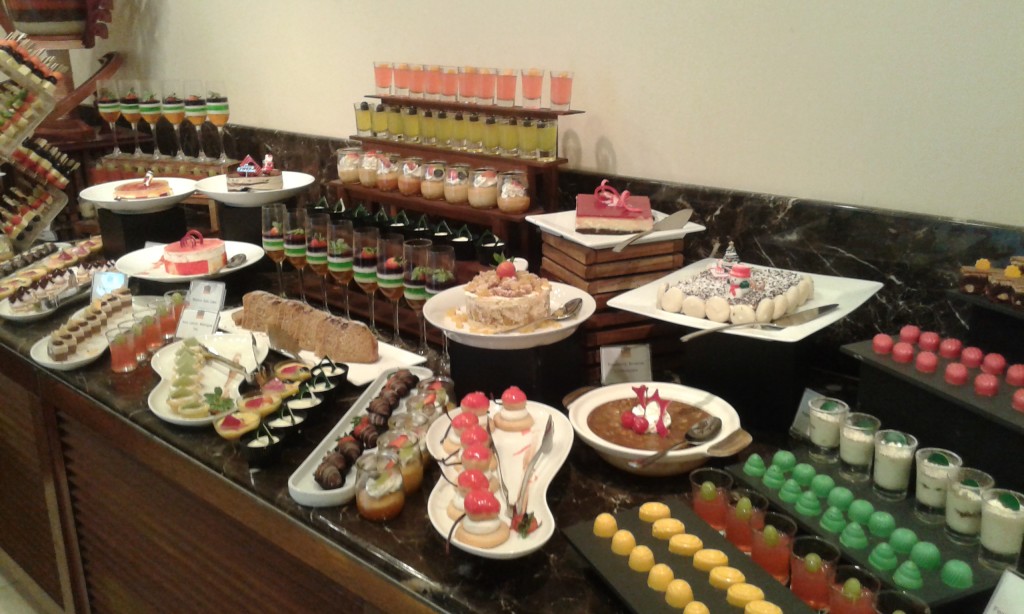 Post lunch, and after a cheeky nap to let the body process all the bland British goodness, we headed over to Chef Daniel's apartment having received a personal invite the night before. By this time the rain had turned from an English drizzle to a torrential tropical downpour and we turned up at his house looking like a pair of drowned rats.
No problem though, champagne was free flowing in this expat house as was the beer. Christmas abroad is always an interesting time because expats from all over the world come together and this party was no different.
There were Russians, Germans, Italians, Dutch, Americans, Venezuelans, Spanish, Nicaraguans, Indonesians, Sri Lankans and of course the British all getting merry.
I learned from many expats that Sri Lanka is referred to as India Lite.
It made perfect sense. It's got the same climate as India, it's a developing nation like India, it shares a lot of culture with colonialism, Buddism, Christianity, Islam and Hinduism like India, it's got great food like India. But it's not quite like India. If India is the full bodied, red labeled Coca-Cola, Sri Lanka is the Diet Coca-Cola version.
Chef Daniel was the perfect host thanks to his aversion to anyone holding an empty glass. Kids were running around like mad hatters being, well, kids. Nineties indie music blasted from the stereo and took me back to my teenage years.
In the early evening Christmas Dinner part two was laid out, all created by Hilton Colombo's executive chef. It was so awesome. More turkey, more roast veggies and even Yorkshire pudding, which required a lot of explaining to
non-British people on why it wasn't a dessert.
More beer and champagne flowed, more classic tunes from the nineties played and more people got completely confused about what I did for a job.
It really was a great Christmas, one that will always be remembered. Thanks, Sri Lanka and sorry for thinking you'll be exactly like India!