Listen up Internet. Can you help my wife and I? We want to go somewhere for Christmas but we just don't know where! The only requirement is that it's in India, we shouldn't have been there before and there should be some things to do or places to explore.
This will be my fifth year outside of England for Christmas. Last year my wife and I decided to switch things up a little and booked ourselves into the Hilton Colombo. She was working for the Hilton so we got a nice staff rate on the regular price. To top it off, the head chef at Hilton Colombo was British so he laid on the best Christmas dinner I've had in a long time.
Christmas in Colombo was fantastic, can we find anything in India to match that experience?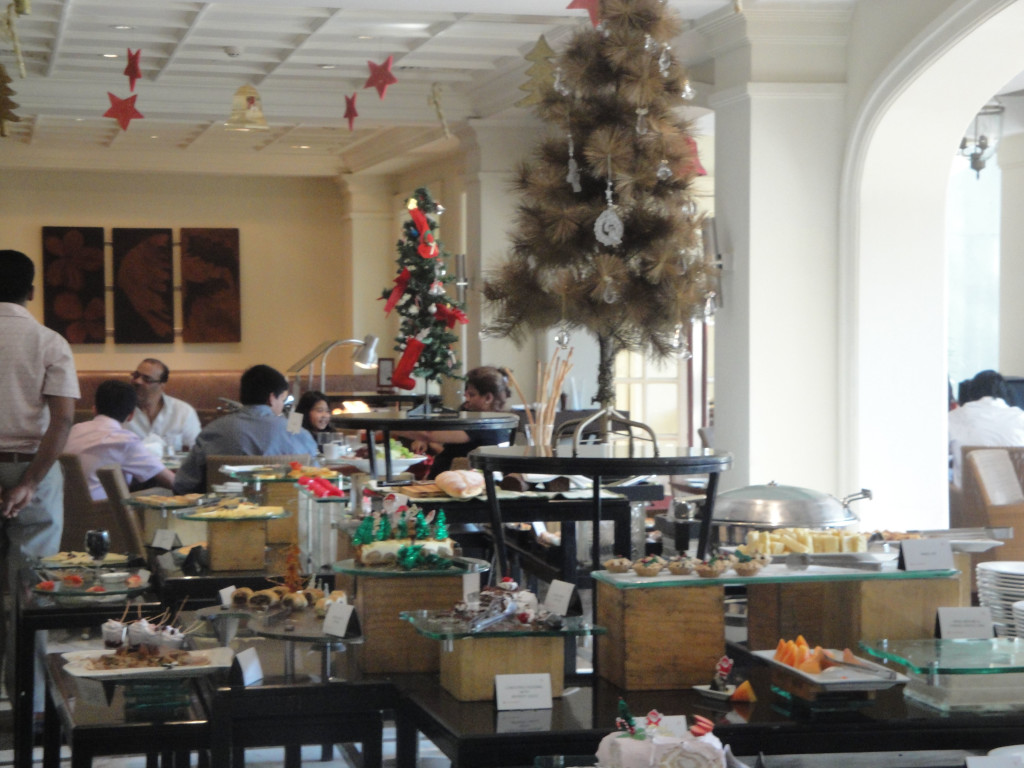 The big hotels in Chennai all lay on a Christmas buffet
In previous years we went to the Taj Connemara for Christmas dinner. It's a great restaurant, a nice Christmas spread and reasonably priced as well, if you consider how much the other hotels charge for Christmas buffet in Chennai. However, after three straight years it does get a bit samey.
This year we're scratching our heads over what to do and where to go. The only thing we've decided is that we can't bear the thought of spending another Christmas here. Sorry, Chennai, I love you and everything but I can't do another Christmas with you.
Christmas carols are sung in Chennai
So that brings us back to what to do. Go abroad? Meh, my wife's passport has less than six months validity on it and we all know how long it takes to get a new passport. Christmas in Singapore or Kuala Lumpur sounds good and we nearly ended up in Bangkok last year after we discovered incredible staff rates at the Conrad Bangkok, but our hands are tied, we need to look for something in India. (Oh, and my wife left the Hilton, so no more staff rates, booo!).
We thought about the North. Neither of us has really 'done' the North of India, but I've been to Jaipur in February and it was bloody cold then, so I can only imagine how cold it would be in the middle of December. I would love to go to Delhi, but the cold combined with the sky high air pollution at this time of the year puts me off. Besides, are any touristy things going to be open over Christmas? Can you convince me? I wonder if The Claridges hotel will give me a discount because we share the same name?
We could keep things simple, go down to Pondicherry, but, well, there's nothing to do there. We've been, we know. How about Coorg? Up in the mountains. Sure, it's going to be chilly, but there are so many romantic getaways according to the results on Make My Trip. But oh, wait, there are no flights going out from Chennai to Mysore. Grr. Next!
Ooty and Coonoor are always popular places, but we've been to these places so many times there's nothing new about it. Any way, the one place I want to stay in Coonoor, the Taj Gateway, is fully booked.
Right now we're thinking Christmas in Hyderabad, which is…great. Yay. It fits our budget, we don't have spend 8 hours and take two flights to get there, the Taj hotels are pretty reasonable, it appears like there's some things to see according to Trip Advisor, so yeah.
Oh, I nearly forgot, there's Goa as well. We spent our Honeymoon in Goa. A truly fabulous place, a little pricey at this time of the year though because every man and his dog wants to escape to Goa for Christmas. If we wanted a cheaper beachy Christmas, we could go to Kovalam and Varkala in Kerala, but as with Ooty and Coonoor: been there, done that.
So, Hyderabad it is. Unless you, the Internet, can come up with any better ideas in the next few days.