Let's start with a lead magnet definition:
A lead magnet is used by a company as an incentive for the visitor to hand over their email address. In B2B marketing a lead magnet is often in the form of a downloadable PDF. Other types of lead magnets could be discount codes when a visitor signs up for a newsletter, a webinar or a free tool.
For B2B marketers, getting a visitor's email address is the first significant step towards building a relationship with a potential customer.
The goal of a lead magnet is to offer something that the visitor values enough that they are willing to share their personal information with you.
Lead magnets in action
Here's a lead magnet example from Wordstream promising to help visitors improve the ROI they get from their Google Ads.
If you are on the Wordstream website, chances are you have searched for answers to your Google Ads questions so this makes their guide very relevant to their audience.
This article will get you up to speed on everything you need to know to start creating highly effective lead magnets that can further your business goals.
Why do you need lead magnets?
For many companies, a lead magnet is an essential step in the customer journey. It's considered to be at the top of the marketing funnel as it forms part of the awareness and interest stages of the AIDA marketing acronym (Attention, Interest, Desire, Action).
The vast majority of people that visit your website will take no action.
On the websites I've managed for B2B companies, as much as 95% of people will leave without leaving any contact details.
They'll come and read your blog post, some might even check out your offers, but most will close the browser tab or move on to another website.
If you are spending time, effort and money (especially money!) to bring people to a website, the last thing you want is for them to be moving on without giving you some contact information.
This is where lead magnets come in. They are designed to appeal to the kind of visitor you're attracting to your website and get them to hand over their contact details.
In the example below, Front, which is a shared email inbox useful for when customers email an address like support@domain.com, talks about how to get away from using a distribution list which is what many companies might use to ensure everyone sees an email coming to support@domain.com.
The more you can build your email database with relevant leads, the better the opportunity you have of converting people from visitors into customers.
Of course, it's not as simple as uploading a PDF and calling it a lead magnet.
A lot of thought needs to go into who you are trying to target, what their particular pain points are, and what you can create that's relevant to your business and will help your audience with their pain.
Do lead magnets work?
When done well, lead magnets can help turbo-charge a business. When done badly, they can be a massive waste of time or worse: they could harm the reputation of your company.
That might sound a bit extreme but consider this…
Today it's very hard to get people to hand over their contact details, people are passionately protective of their inbox.
If your lead magnet over-promises and under-delivers, do you think people will be willing to continue downloading your content or even bother contacting you?
Salesflare aims to ensure it delivers exceptional value in its lead magnet by providing visitors with a useful Excel template to help them manage their sales funnel.
It works particularly well because while there is value there, it works as a manual solution to a problem that Salesflare automates.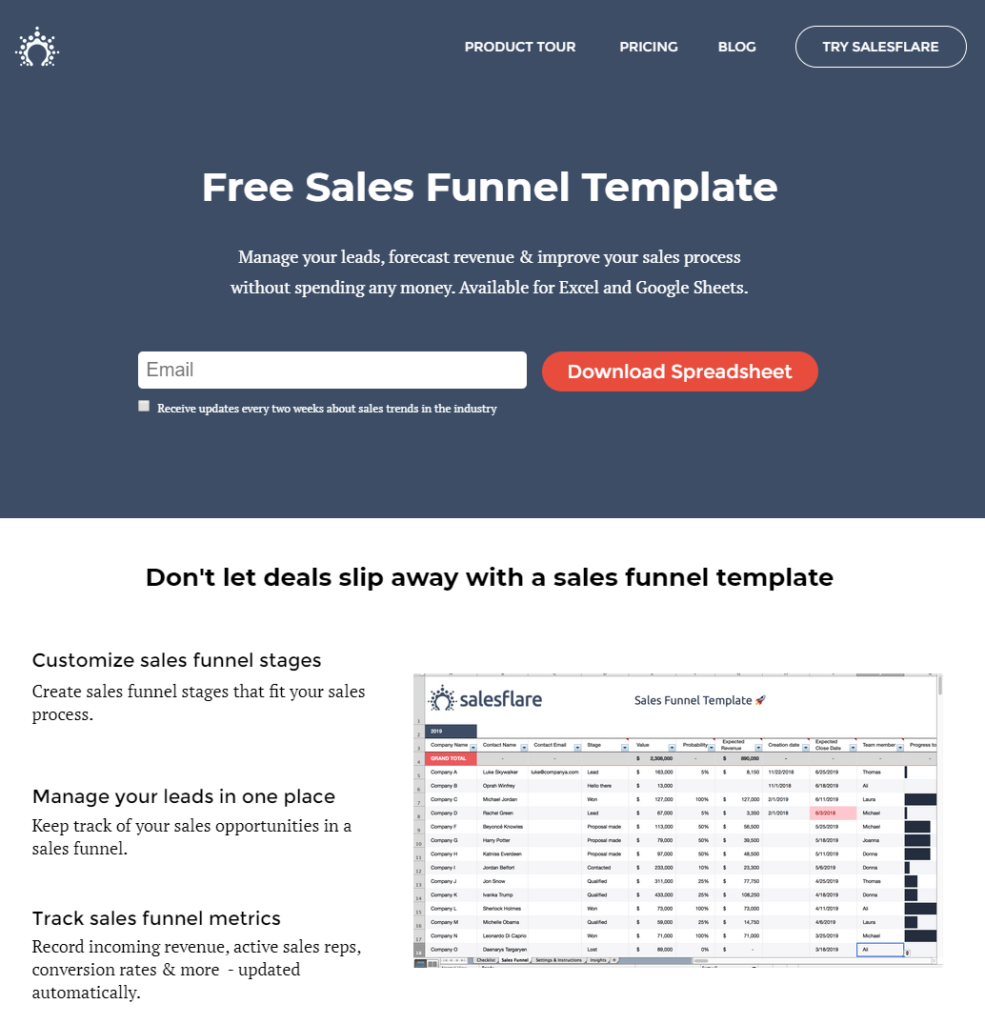 I've seen people on Facebook and LinkedIn groups claiming that lead magnets no longer work. Often it's because they think they can slap some text together and call it an ebook when it should have been an open access blog post.
Even if you have a great lead magnet, if you're showing it to the wrong people, then it's not going to convert.
Why do some people say lead magnets are dead?
Every now and then you'll get someone saying that lead magnets are dead – whether it's in a group or on a blog.
These statements can be misleading in some way. For example, they might say lead magnets are dead in the title, but read a bit more of the article and they'll say traditional lead magnets are dead.
Typical bait and switch tactics 😀
Alternatively, a brand might claim that lead magnets are dead but it turns out that they're promoting some alternative to lead magnets.
Whatever a minority of people say: lead magnets work. I visited hundreds of B2B websites for this article and every one of them had a lead magnet.
In short: You should absolutely be looking at creating your own lead magnets.
How does a lead magnet work on a website?
The way lead magnets work is very simple:
You place a form on your website or blog where a user enters their email


When the user enters their email and clicks submit they can be taken to a 'thank you' page where they can access the lead magnet and/or an email can be sent to them with instructions on how to access the lead magnet
Placing your lead magnet behind a form and asking a user for their email address to access it requires either some coding, or a third party tool.
Companies like Sumo, Mailchimp and Constant Contact make it very easy to create forms (and often have free accounts to start you off) to capture email addresses.
Sumo is all about creating forms that help you capture your visitor's email addresses.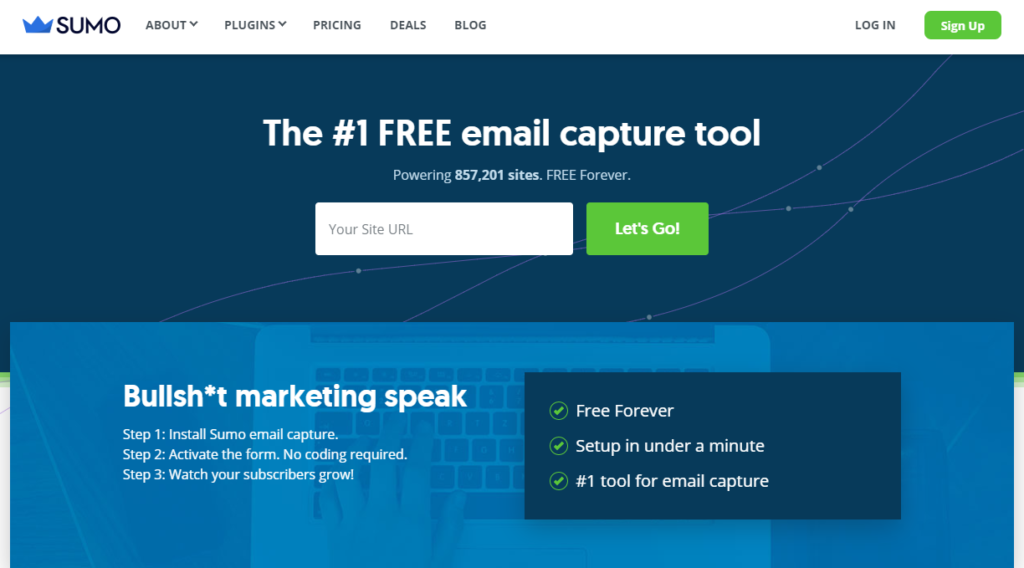 What's the difference between a lead magnet and lead capture?
A lead magnet is the content that you have created and are asking the visitor for their email address in return for giving them the content.
Lead capture is the form you set up on your website to capture that email address.
The form saves the email address to your email database and redirects the user to the 'Thank You' page, or sends the visitor an email with details on how to access the lead magnet.
Gated vs un-gated lead magnets
There is a lot of discussion around whether your best content should be gated or un-gated.
At the end of the day it boils down to what you want to achieve with your investment in content creation.
Is it for lead generation?

Is it for brand awareness?
There's no fixed rule around this, however, my research says most B2B companies will have some kind of gated lead magnet on the website.
[yop_poll id="1″]
If you want your brand to be known as the go-to brand for educating its audience, then perhaps un-gated is the way forward.
Neil Patel is a great example of this. He gives incredible content up front on his blog, that he could easily be putting behind a form and asking visitors to enter their email to access it.
In some ways, his incredible content is the lead magnet because people don't want to miss out on his next post so subscribe to receive notifications of new content.
As a result, he has hundreds of thousands of subscribers in his email database now.
Whenever he publishes a new blog or video, he sees a surge in traffic from his email list. A percentage of those visitors will sign up for his SEO tools or contact his agency. In some ways he's saying "I'm giving you all this for free, imagine what I can do if you paid me."
It's one of the strongest cases for not gating your lead magnets that I can think of. If you can prove to people how much success you're getting and provide step by step examples of how you used your own tool to achieve it, that's perhaps all the lead magnet you need.
Interestingly, Mailchimp, an email marketing software company, has chosen not to gate its PDF content on its resources page. Its reports, like the one below, are freely accessible without having to enter your email address.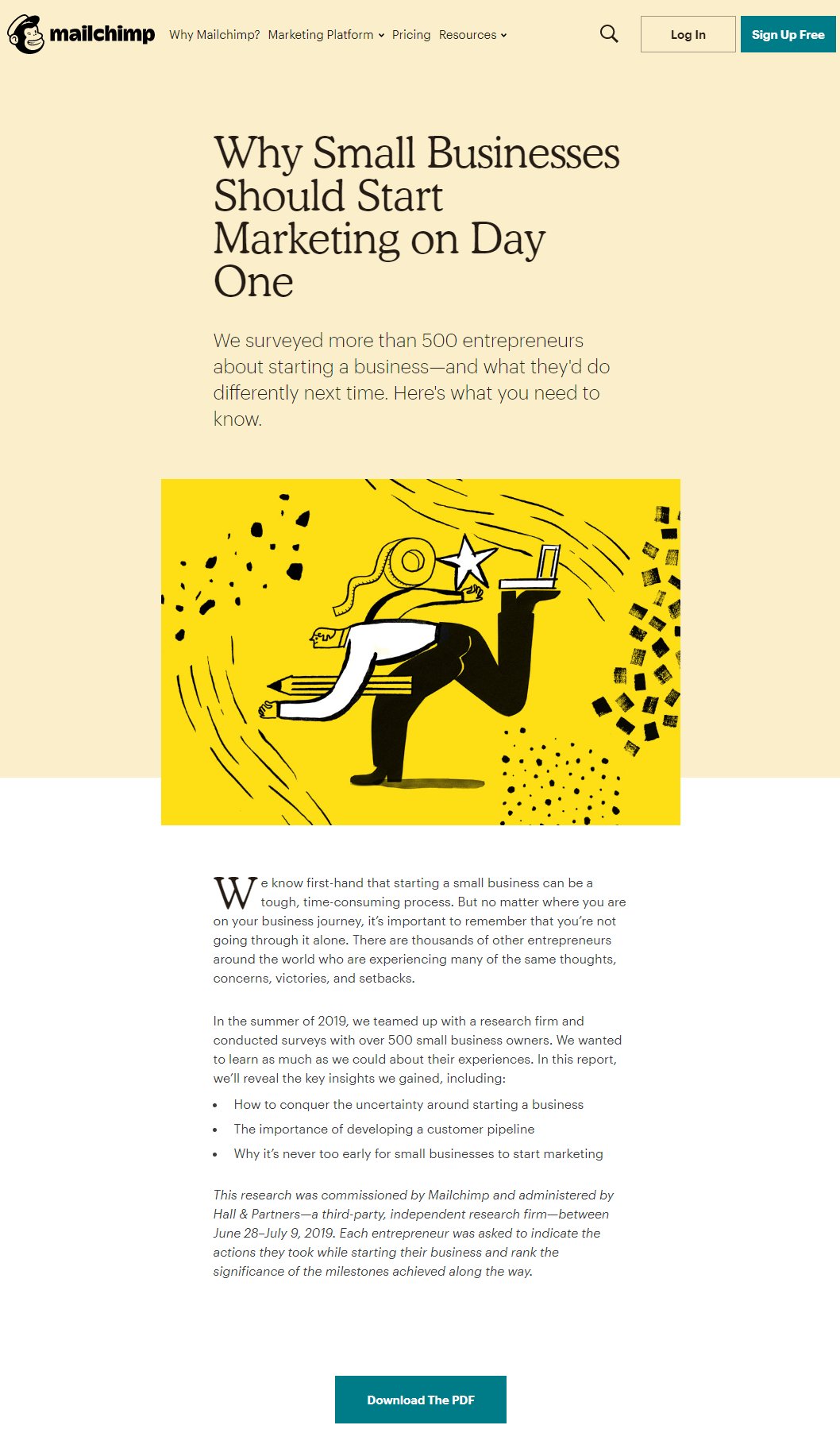 What lead magnets look like in the real world
Engagio, an account based marketing platform, offers a free ebook from their home page that teaches their visitors everything they need to know about account based marketing.
This kind of lead magnet works well for Engagio because ABM as a marketing strategy is still in its early stages and can mean different things to different people. It's also a vast topic so it requires more than a blog post if it's going to be a complete guide.
Now, to download the ebook, Engagio is willing to bet that this information is so valuable to you that you're prepared to part with some personal information in exchange for access to the ebook.
We can get more into the science of a lead magnet landing page later, but for now, notice how Engagio has removed any distraction from this page? There are no menu items – only links to the legal pages in the footer.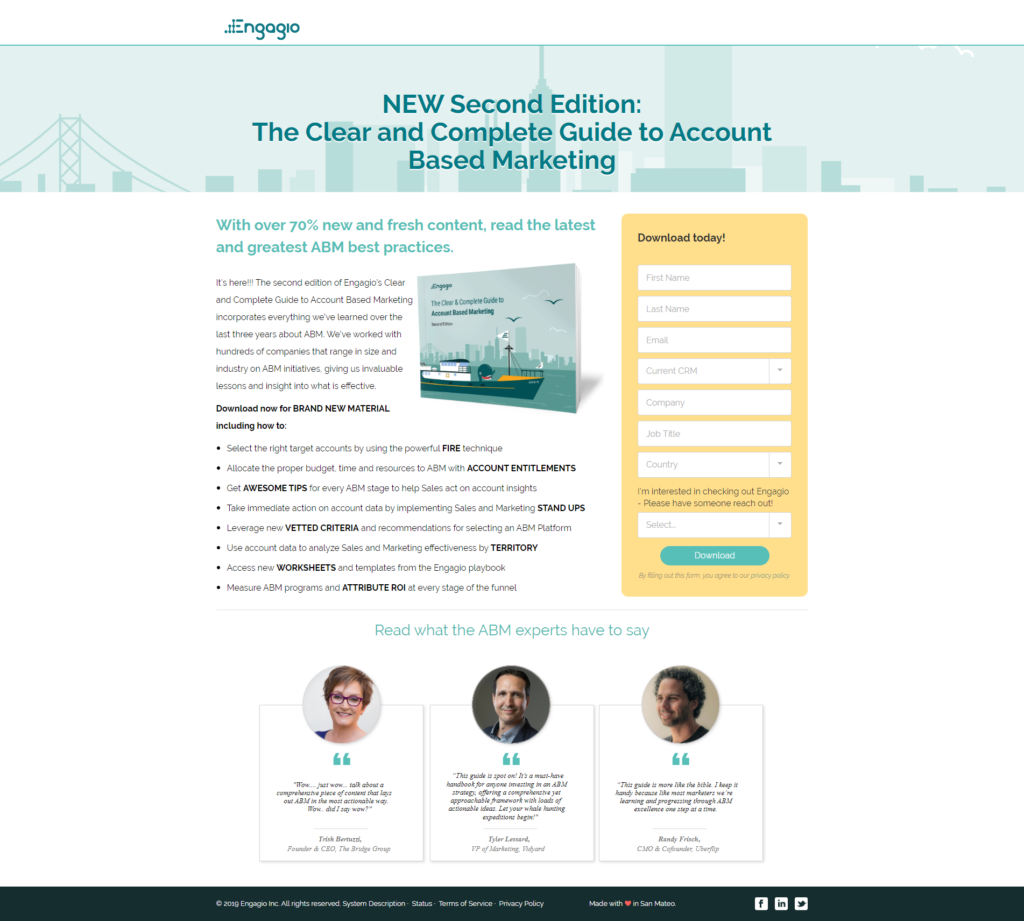 You might sometimes hear people calling these types of landing pages that ask for your email address a squeeze page.
Why?
Because it squeezes out an email address from your visitor 😂
With no distractions, a focus on the benefits of the content, and a few customer testimonials to boot, the Engagio landing page in the screenshot above is doing a great job of squeezing that email out of you.
What types of lead magnets can you create?
Anything that you can create that has some value can be used as a lead magnet. For B2B marketers like us, the focus tends to be on downloadable PDFs, but that's not the only type of lead magnet you can offer.
Here are some ideas…
1. Checklists
Checklists make for great lead magnets because it means your visitor doesn't have to figure something out for themselves – you've done all the hard work for them!
Chris Von Wilpert from Content Mavericks makes excellent use of checklist-based lead magnets. The actual checklist is a read-only Google Sheet which has all the points mentioned in his blog post in an easy to read format.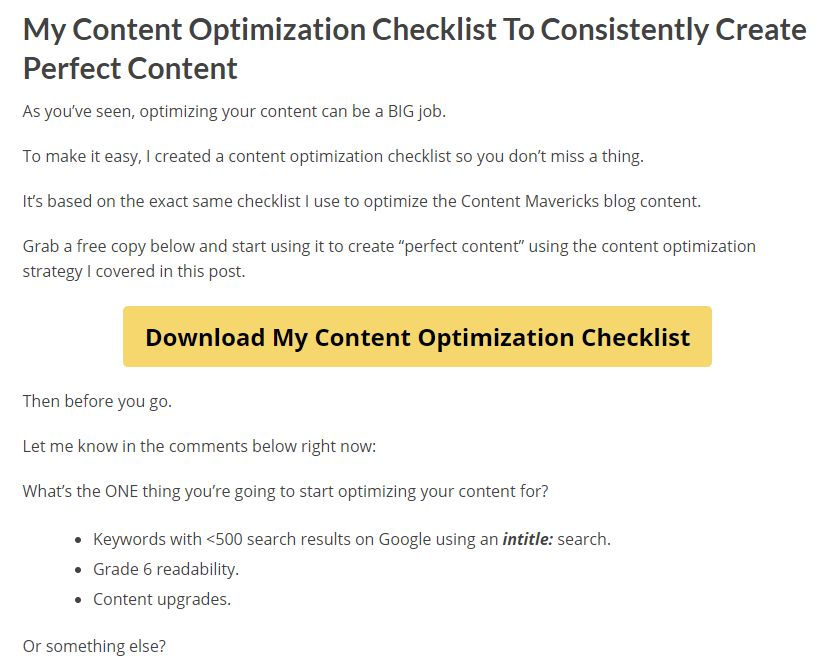 To make his lead magnets even more effective, Chris employs a technique called content upgrades which is where the lead magnet being offered is an 'upgrade' to whatever the blog post is about.
2. Templates and swipe files
What's better than a checklist to guide you through how to do something? Someone doing it for you and for free!
Many B2B companies create content templates for their visitors. Often these will be around critical business functions and companies tell visitors they are allowing them to 'steal' their best work.
Drift has a great example of a lead magnet that is a swipe file.
It's compiled a bunch of cold outreach emails that it says have incredible response rates.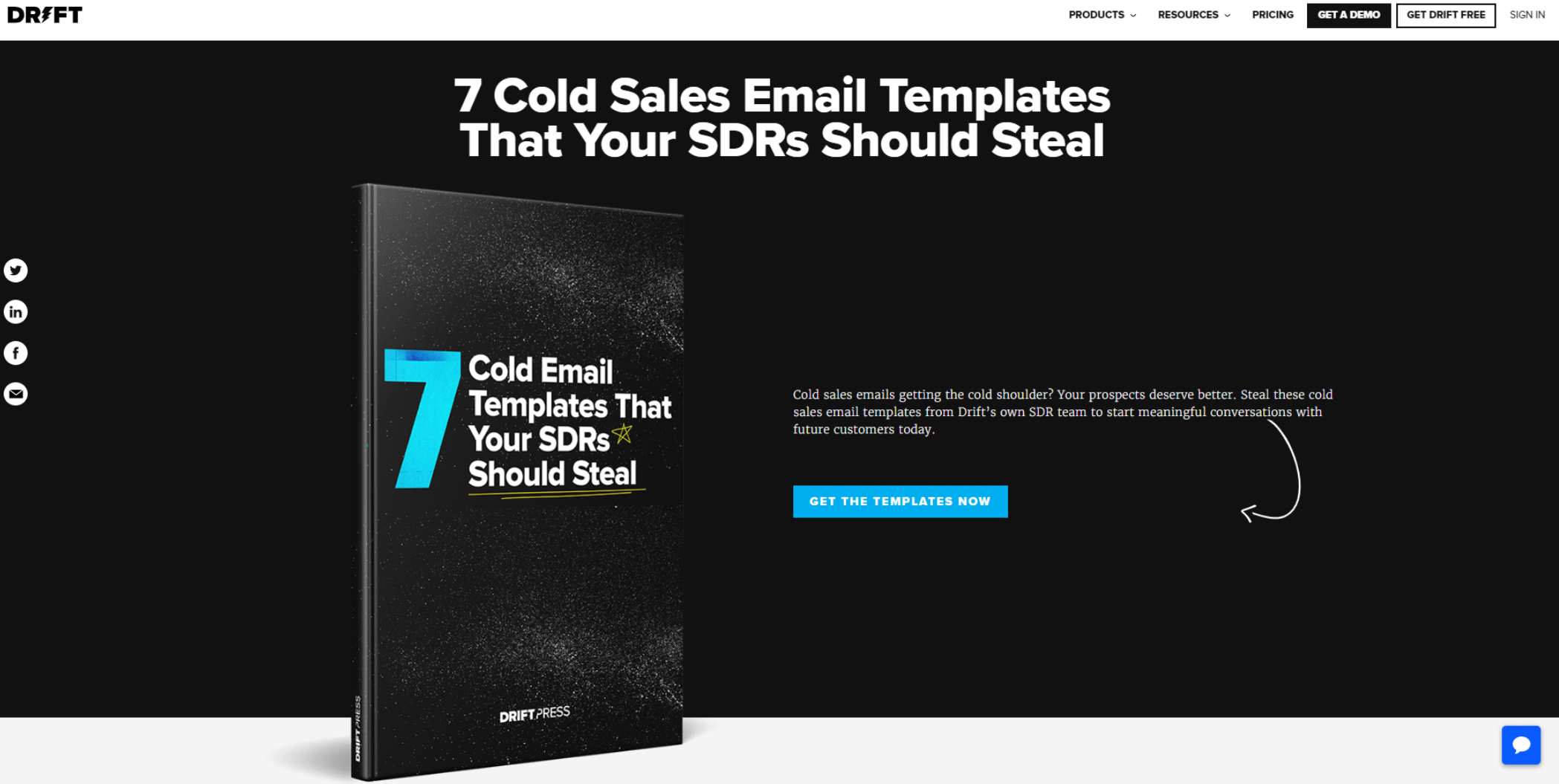 Now which B2B marketer wouldn't want to steal those? Whether it's for yourself or to pass on to your SDR team, what a useful resource!
And they only ask for your email as a 'payment' for access.
Just like the Content Mavericks lead magnet, Drift also delivers its lead magnet as a Google Doc. Remember: There's no rule on how your lead magnet is delivered, it doesn't have to be a downloadable PDF!
3. Webinars
Using a webinar as a lead magnet is something Act-On is doing on its homepage (along with a couple of other offers).
It's quite a timely webinar as it was released at the height of the global COVID-19 outbreak when many companies were asking their employees to work from home. Plenty of people were searching for ideas on how to manage their teams given that everyone was working remotely.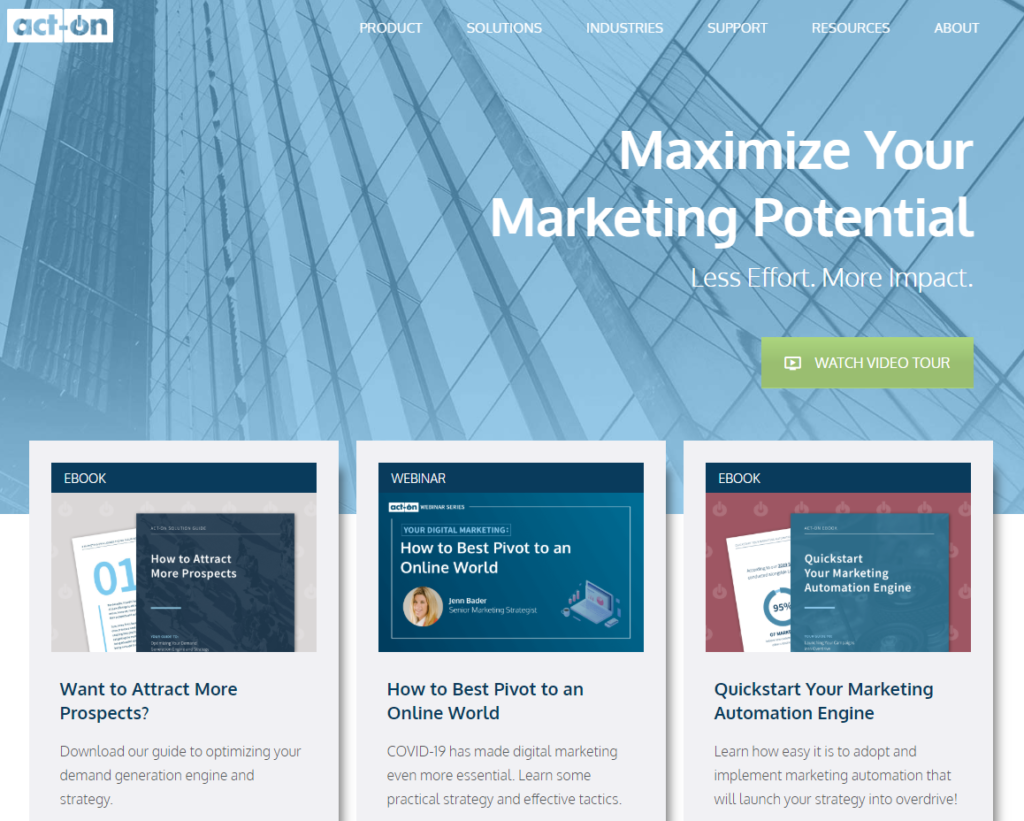 4. Quizzes
Lead magnets disguised as quizzes can work really well for some companies. Before the user can get the result of the quiz, they are asked to enter their email address so that their 'personalized results' can be sent to them.
These quizzes can help visitors understand how advanced their knowledge is in a certain topic, which is what Optimizely does around the subject of optimization.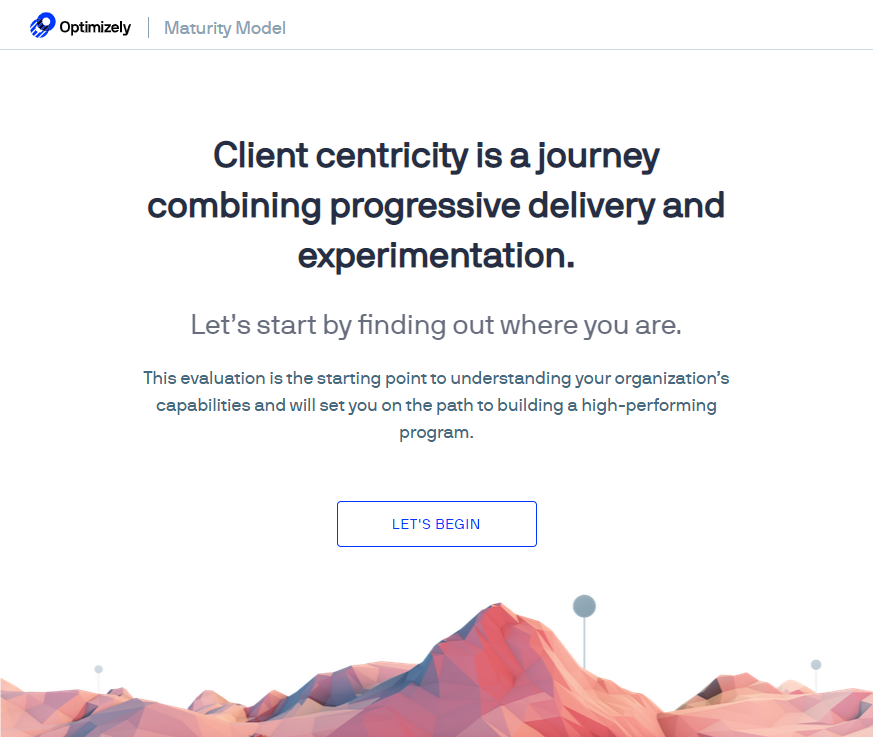 Other companies use calculator-style quizzes to let visitors work out how much they are currently spending on something, or discover what kind of ROI they might get if they use the vendor's tool.
Further reading: 17 Lead Magnet Ideas.
How to create compelling lead magnets that convert
A lead magnet is only going to work if it has a strong appeal to the audience you are looking to target.
With so much content available for free on blogs, social networks and YouTube, you can't take the easy route of writing a 2,000 word article on a topic, putting it into a PDF and calling it a lead magnet.
You need to provide something that's going to save your visitors time and money, and this is going to cost you time and/or money in order to create.
Evergreen vs content upgrade lead magnets
The first step is to decide whether you are going to create content upgrades or evergreen content for your lead magnet. What you decide now will inform the kind of content you need to create.
What is an evergreen lead magnet?
An evergreen lead magnet is usually a larger piece of content that helps educate your audience about the space that your industry occupies. It's broad in scope because it needs to appeal to a wide audience.
It can be used to promote to a relevant but 'cold' audience, ie. lookalike audiences on social networks or with placement display ads on websites.
You'll often find evergreen lead magnets advertised on the home pages of B2B websites.
Here's ContentStack's evergreen lead magnet. A B2B marketer thinking of transitioning their website away from a traditional CMS like WordPress to a headless CMS would probably find this guide to headless CMS's very useful – I hadn't even heard of a headless CMS until I started writing this article.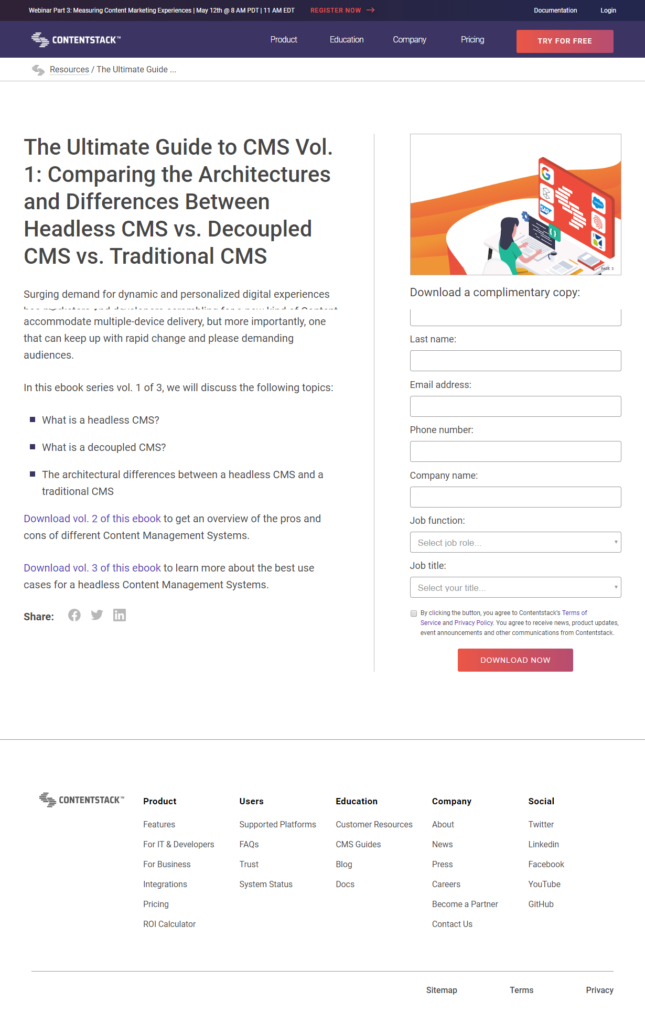 What is a content upgrade lead magnet?
Most B2B companies will get most of their traffic to their blog because it provides articles that answers questions, educates, and helps people. The problem is, blogs are generally very bad at converting that traffic from visitors into leads, because the person might be in your target market, but they are not in-market at the moment.
That's where content upgrades come in.
Content upgrades are usually specific pieces of content that are placed at the end of a blog post and used to make blogs work harder at driving leads from the traffic they receive.
They are very relevant to the topic of the blog post. For example, in this blog post about product marketing, Hubspot has included a product marketing go-to-market kit as a content upgrade. It makes complete sense. They've just taught you what a product marketer does, now they're taking it to the next logical step of giving a product marketer everything she needs.
Read more: Evergreen vs content upgrades – which lead magnet should you choose?
Which lead magnet format to choose?
So you've decided you're going to create an evergreen piece or a content upgrade.
What's next?
Figure out what your audience really cares about. This is where your persona research comes in. What pain, challenge or frustration are they facing right now that is preventing them from happiness?
If you're struggling to answer this, then it might be worth returning to your persona development.
Try thinking about your lead magnet in terms of things that will help save a person a tonne of time or would require a remarkable amount of effort if they were to do it themselves. You don't have to spend much money to create the lead magnet but they might require a time investment.
Some could include:
Ultimate guide – perfect for products and technologies that are new to the market and don't have many peers or mainstream adoption. The goal is to educate your audience about the possibilities.

Step-by-step guides – if you were able to achieve spectacular results that are desirable to your audience, and could be replicated if they followed the same set of steps, then this kind of guide will work well.

Curation – easy to do, but takes a long time to do it. Curation could be examples that give your audience inspiration to do their own thing.

For example, if your app helps with onboarding emails, you could sign up to a tonne of tools and curate all their onboarding emails into a single document to provide people with examples and inspiration to get them started.

Checklists – Have you figured out a process that can bring repeatable, predictable results? A checklist that gives someone a shortcut to some relevant learning and wisdom that you or your company has developed makes for a great lead magnet.

Frameworks – similar to checklists, these help break down strategies into relatively simple processes, usually aided by charts, tables and diagrams.

Survey results – businesses love to benchmark themselves because there's always a fear of missing out, or a fear of not doing the right thing, or critically, a fear of spending too much money!

Webinar – more difficult to set up, but if you can get an industry influencer to give a presentation teaching your audience how to do something, then this will make a great lead magnet. Note: A webinar explaining how to use your product is generally not a great lead magnet.

Further reading: 17 more lead magnet ideas for your business
REMEMBER: Your lead magnet needs to deliver value. When you're done with the draft ask yourself:
How closely does this content match the pain points your target audience has?

Does the content either educate, save time, or provide some kind of shortcut?

If the content is similar to what's already available online, what additional benefit are you providing?

Does the content provide a compelling enough reason for the user to give you their email address?

Will the user feel let down when they access your lead magnet? Are you using bait and switch tactics by over promising and under delivering?
Naming your lead magnet
This comes down to copywriting 101. If you haven't studied copywriting in detail, then check out the Copyhackers guides for some excellent introductions to copywriting.
(Hey, look at that, Copyhackers even has a 30 minute video on writing high converting headlines)
What you name your lead magnet could make or break its success. In general you want to follow the same principles that make great article headlines.
Buzzsumo did a brilliant study a few years ago that looked at what kind of headlines got the most engagement on LinkedIn for B2B content.
The short answer: Anything that starts with "How to" or is a listicle.
Source: https://buzzsumo.com/blog/write-engaging-b2b-headlines-analysis-10-million-articles-shared-linkedin/
Including a CTA in your lead magnet
The primary purpose of the lead magnet is to capture the email address of people visiting your site so that you can market to them long after they've left.
That's not to say that you shouldn't be including some kind of call to action (CTA) in your content. The kind of content might dictate what kind of CTA you use.
For example, if you create a lead magnet that is a checklist or teaches a framework, perhaps your product will help automate a lot of that work for the person. You're showing them a manual way of doing it and leading them towards a more automated method.
This is what Hubspot has done in its product marketer checklist lead magnet. When you open the document the first page includes their logo for branding and a CTA to try out their software to automate sending the emails they recommend in the lead magnet.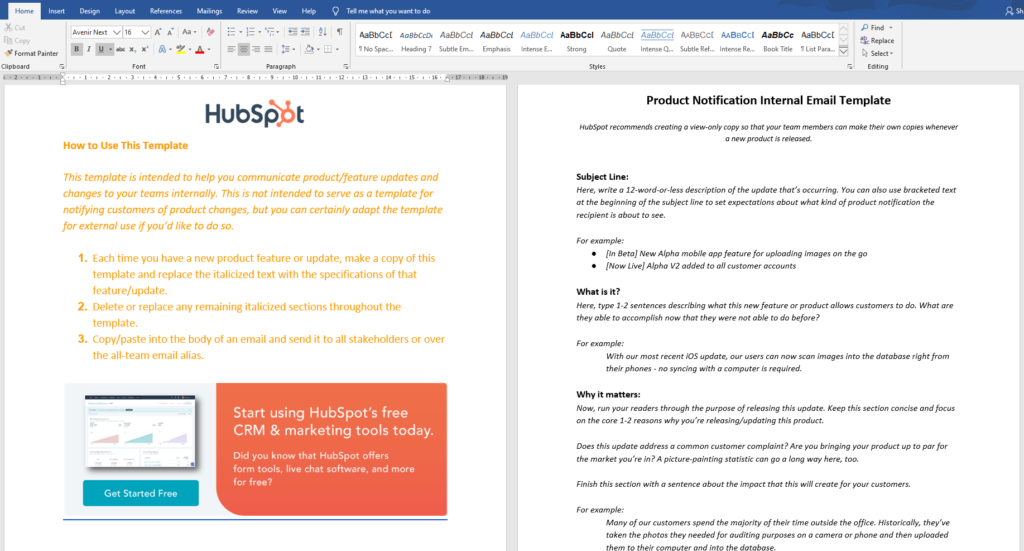 SalesLoft puts their CTA at the end of the lead magnet content that includes a much larger description of what the company does along with some social proof. Since SalesLoft doesn't have a free trial, they probably need to pitch harder in order to get a person willing to give up their time for a demo.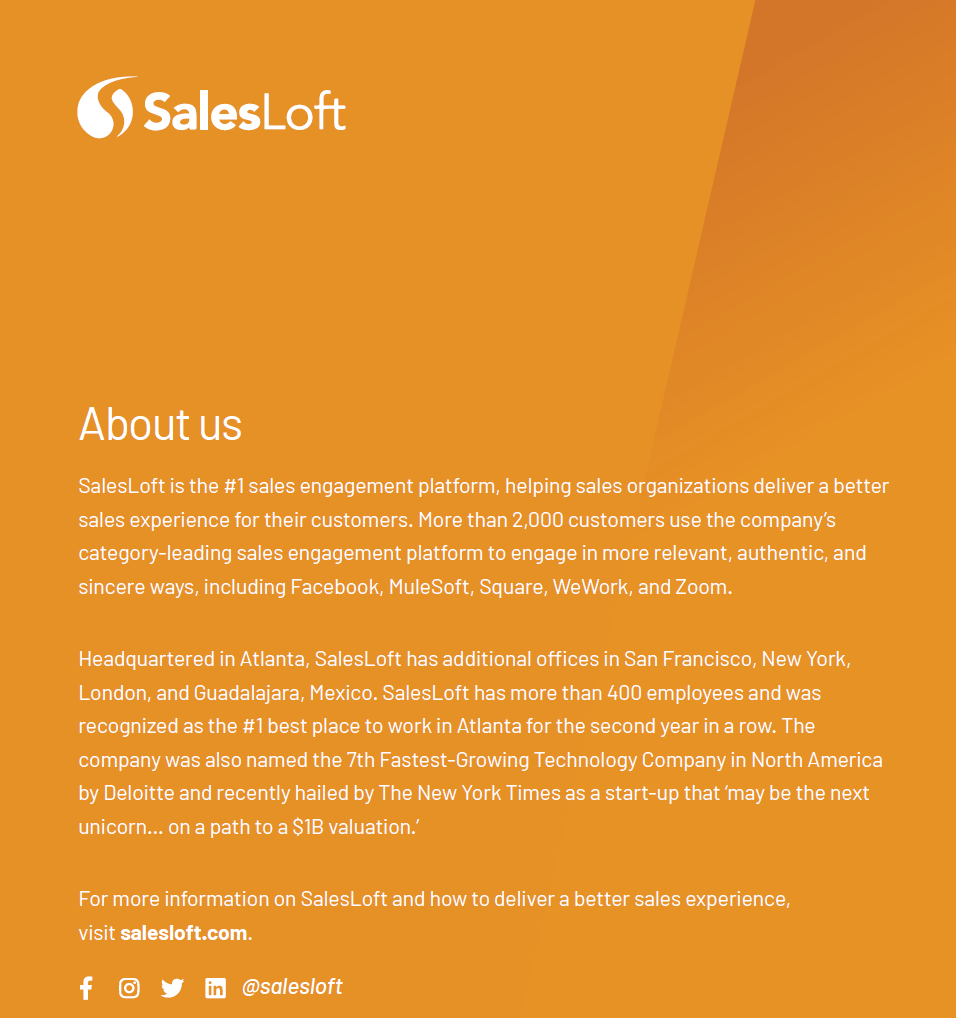 Whether your CTA is at the beginning or at the end, make sure the link back to your website includes a UTM code so you can check how effective the lead magnet is at moving people along the marketing funnel.
Adding the lead magnet form to your website
This is the only technical part of the process but it doesn't have to be that hard. If you're already using a marketing automation tool like Hubspot or Marketo then you've already got the tools you need to create a form and embed it on your website.
If you don't have an email marketing tool right now, consider options like Mailchimp or Sumo where you can create an account and they'll give you some HTML code which you can embed (ie. copy and paste) on your site.
You'll also need a 'Thank You' page which can be optimized to get the visitor to download more content, or is an opportunity to introduce them to your product.
Read: How to optimize your lead magnet thank you pages
Important: If you don't have an automation tool, then don't forget to create a Goal in Google Analytics to track the performance of your lead magnet.
How does GDPR and CCPA impact lead magnets?
Wait, hold up.
We can't talk about capturing people's email addresses without talking about privacy laws.
Governments around the world are taking a closer look at how tech companies are using the personal data of their users to sell advertising and other services.
GDPR is a privacy law that impacts every country in the European Union while the CCPA impacts all California residents. Other countries are in the process of enacting similar laws.
Essentially they all say that companies need to take explicit permission from their users in order to contact them or use their data to sell to advertisers.
What this means for B2B marketers isn't exactly black and white, and different companies have taken different approaches. This comes down to the vagueness and ambiguity of words used in the framing of the laws.
Technically, these laws mean that if you want to send a promotion to someone, they should have opted in to receive it.
That sounds fair enough.
Now, take the case of someone subscribing to receive your blog newsletter.
Does that imply that they have signed up to receive an email from your SDR team asking if they are interested in taking a demo or sending them some follow-up emails inviting them to take a trial?
For a company like HotJar, subscribing to their blog means you only receive emails about new blog posts and not sales pitches.

Some companies might point to their privacy policy which says that anyone on the site entering their email address is opting in to receive promotional emails. This is what Growth Channel does on their blog subscription form.

Whether or not you want to bury these terms in paragraph 18, clause b, section iii of your privacy policy is a matter for your senior management or data protection officer.
Now what about a lead magnet?
Does filling out one of these imply that the person wants to receive promotional emails?
Again, according to these privacy laws, if someone fills out a form you are allowed to contact them only for the reason they filled out the form.
So if we adhere to these laws in the strictest sense, when a person fills out a lead magnet form, you are allowed to send them an email which details where they can access the lead magnet and nothing more.
Very few companies have a lead capture form today that doesn't at least include some reference to a privacy policy.
Interestingly, Segment is one of those companies. There's no link to the privacy policy next to the form nor do they give you a way to opt-out of receiving future communication.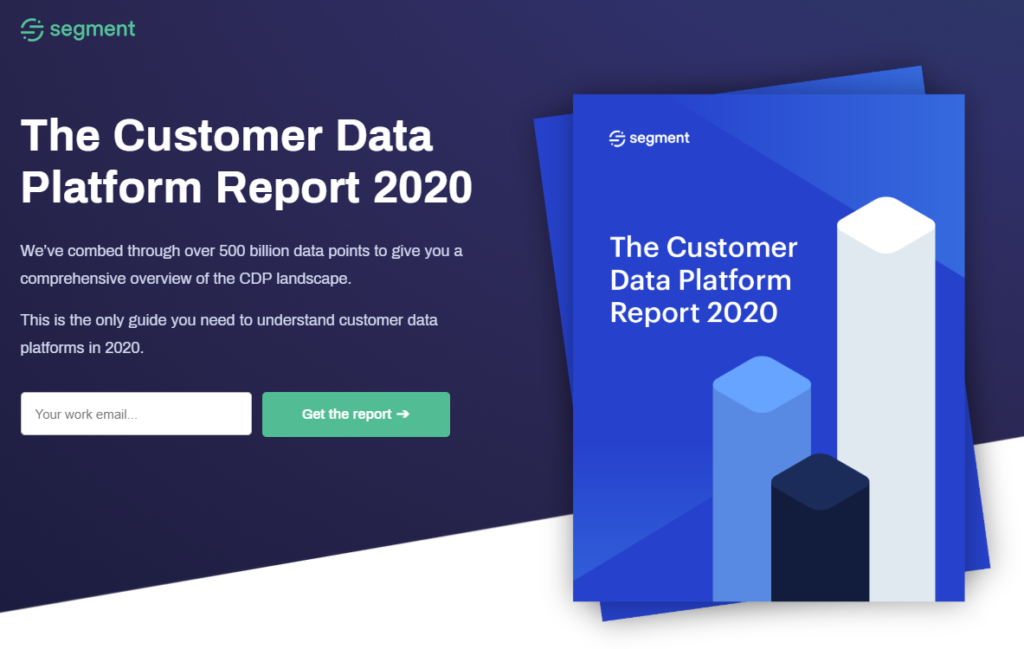 Other companies will just say "Hey, if you download this report, you're accepting our privacy policy and everything that it entails." There are plenty of B2B sites that follow this approach. Here's a lead capture form I found on Looker to download a lead magnet that does just this.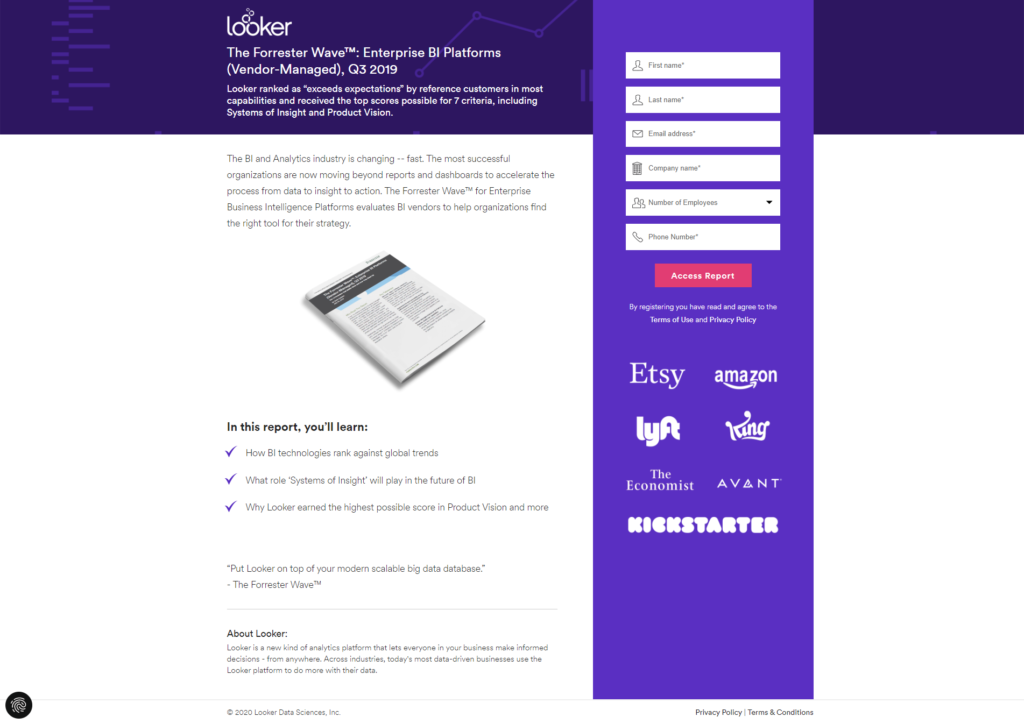 Some companies might include a checkbox that says the user agrees to their privacy policy and terms and conditions. If the user doesn't agree to the privacy policy then there's no way they can access the lead magnet – the content is blocked.
This is what Outreach.io does on their lead magnets. You can't download their ebook if you don't agree to their privacy policy which says they can send you promotional material.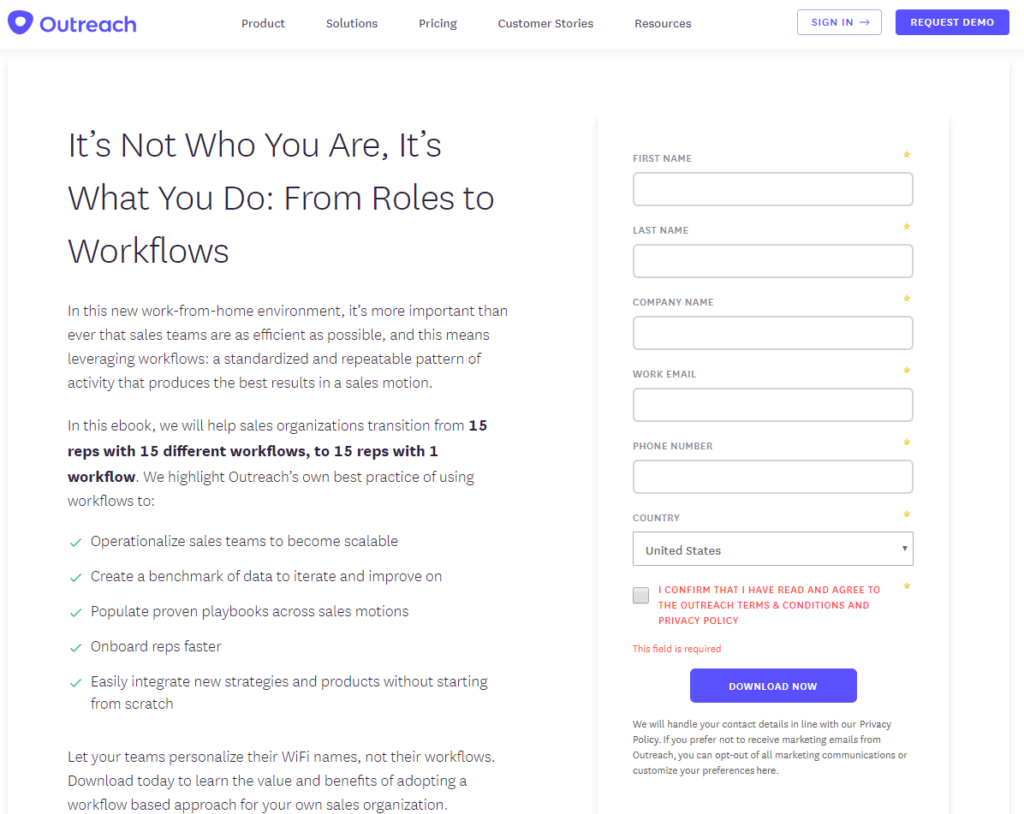 SalesLoft takes the privacy laws seriously with the inclusion of a checkbox that asks the visitor if they agree to receive future communication from SalesLoft, ie. they are being added to an email database.
Unlike the form on Outreach, visitors don't have to check the box to download the SalesLoft ebook, however, I have to say the copy implies that you do need to check the box.
Now none of this is to say Segment is bad and SalesLoft is good. There's no single right way to do it.
All of these companies will have had data protection lawyers decide what's appropriate for their company when it comes to user consent.
It's down to you to decide which way works for you.
Next steps for your lead magnet downloads
Once the person has downloaded your lead magnet that should rarely be "it". It's not "job done" yet – unless of course your form allows a person to opt-out of any future communication.
You should be enrolling the users in to a follow up email campaign.
Now some B2B companies believe that someone downloading a lead magnet is fair game for the sales team.
If you download a lead magnet from Drift, in a couple of days you'll get an email in your inbox that looks something like this:
They see it as a legitimate opportunity for an SDR to reach out to the person. They do it on the pretext of offering help and information, but mostly it is about seeing if you are a potential lead or just another contact in their email database.
There's absolutely nothing wrong with this approach. It's proactive and helps you maximize your sales pipeline. Sometimes people don't even know they are in-market and need a little extra nudge to move them along.
On the other side of the coin there's Leadpages. When you download their content you don't get any SDR reaching out to you. Instead you get a consistent follow up of educational emails that teach you more about the ins and outs of digital marketing for a small business, interspersed with a few non-pushy sales pitches.
Either approach can work but if you are trying to get people to come on a call and demo, Drift's approach is probably best because people need to be nudged more towards that.
A product that has a free trial or even a freemium option like Mailchimp can rely more on sending educational content.
Read more: How to create an effective follow-up campaign when someone downloads your lead magnet
Lead magnet tools
To create your lead magnet all you really need is Office or Google Docs. Many companies have their lead magnets as nicely formatted slides, spreadsheet or document on Google Docs, set it to View Only access and invite people to save a copy.
However, if you want to create something else, here are some tools you might need depending on what kind of lead magnet you plan to create:
To create simple PDFs
Remember, although you can save documents to PDF using these tools, the PDF is still in an open format. If for whatever reason you wanted to prevent people from copying the text in the PDF then you need to use the paid version of Adobe Acrobat.
Here's an example of Drift's lead magnet which is delivered as a Google Slides doc.
To host a webinar recording
To gate a video
To create a quiz
To create a landing page
To create an email form and send follow up emails
Complete lead magnet marketing automation system
Create visually compelling lead magnets
Before you go
Hey, thanks for reading, I hope this introduction to B2B lead magnets was helpful!
Before you switch tabs to check your Slack, I'd love to hear from you! Let me know in the comments below…
Has this guide answered all your questions about lead magnets?
Are you inspired to create a lead magnet for your own business now?
Do you think gated or un-gated content is the best way forward?
Do you have a lead magnet that you're proud of? Tell me why and share it with the community.