If someone said to you why not spend nearly a thousand pounds to fly four hours into the middle of a desert to look at a rock, you might politely enquire what medication that person is currently taking.
Incidentally, that's exactly the reaction I got from my wife when I suggested we forgo a trip the Great Barrier Reef and go to Uluru instead while on our Australia holiday.
Uluru, or Ayer's Rock as it's also called, is a great mountain of red rock in the middle of Australia. Set in the desert plains, it invokes a sense of mystery and wonder on how it got there. Unsurprisingly, for the local aboriginal population, Uluru holds a huge amount of spiritual significance.

Getting to Uluru isn't easy, and perhaps that's part of the allure for the 400,000+ tourists that visit every year. You are visiting a place that is world-famous yet seen by so few. We took one of the daily Jetstar flights out of Sydney. Be careful how you pack though because there's no checked-in baggage included and you're only allowed 7KG of carry-on luggage which they are really strict about as an unfortunate Chinese family that were ahead of us in the queue found out. You could drive but only if you like spending 24 hours looking at nothing but the horizon.
Landing at the airport is like arriving at the entrance to a Disney World attraction. It's comically small and oh so quaint. We walked from the plane to the arrival gate and watched the baggage handlers on the outside load our luggage on to the carousel and picked up our bags on the other side.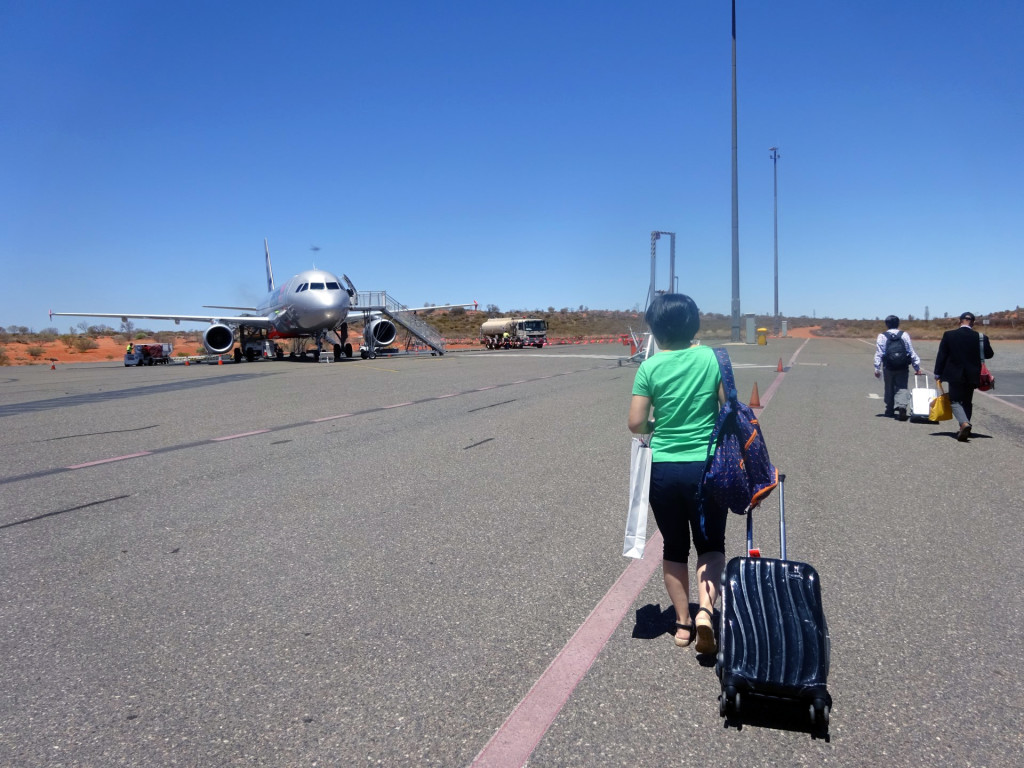 We wanted to have the freedom to explore the national park so had booked a hire car many months ago and it was a good job too, there were plenty of people who were turned away as there are only so many vehicles available.
Accommodation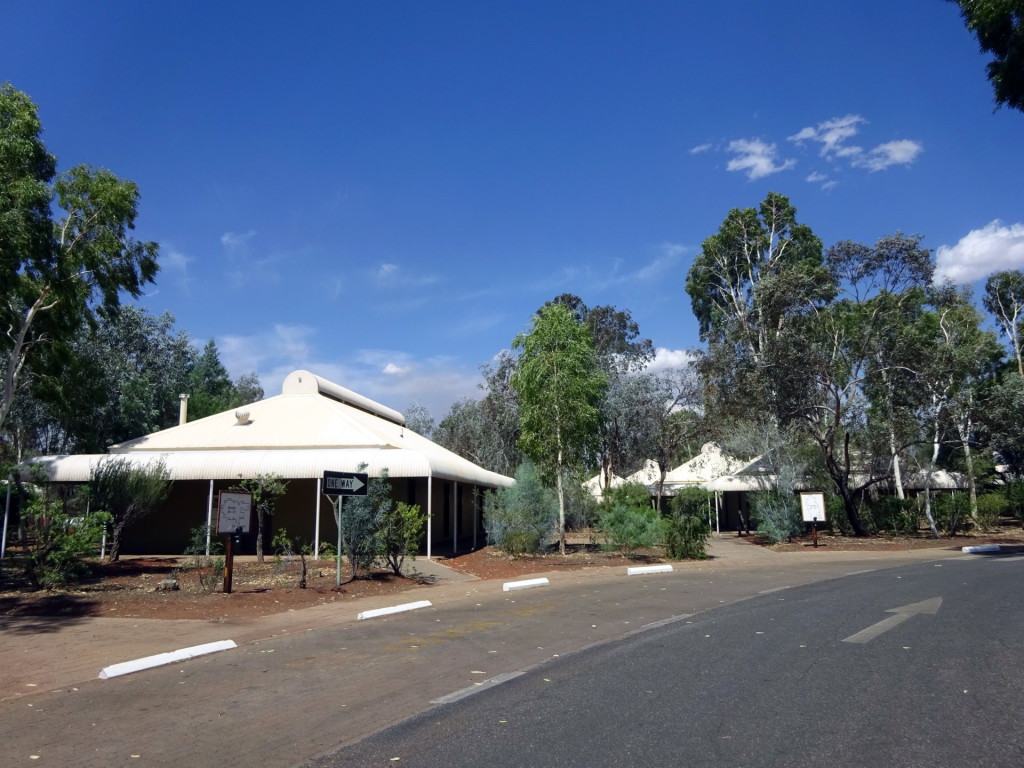 There is only one resort to choose from and it has different levels of accommodation. My cub scout days are over so although staying in a tent without electricity would have been easy on my wallet at AUD$36 per night, I refused. The Outback Pioneer hotel offers hostel type accommodation with communal ablutions and cooking facilities but my sister was resolute that 'ain't nobody got no time for sharing showers with strangers.
I was inclined to agree.
The other 'low cost' option was a more familiar motel style accommodation, the rooms sleep upto four people although sharing a room with my parents was one compromise too far.
Weather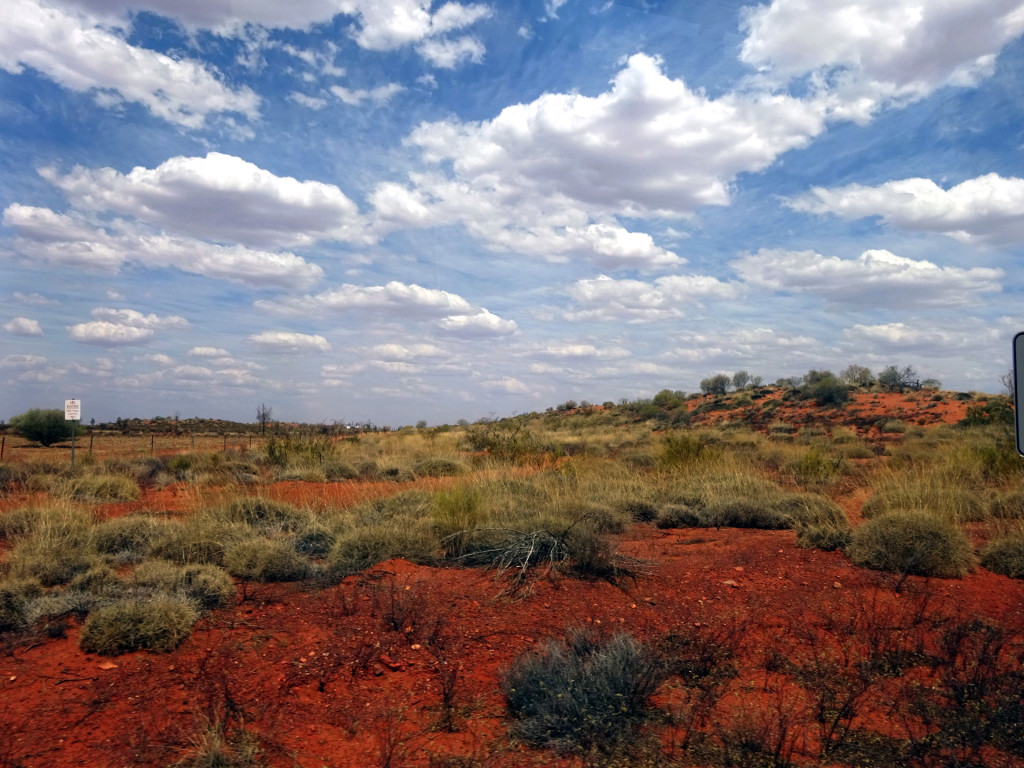 There is a precedent in my family that where ever we go, the rains will follow. Every year on our annual family holiday we would hear the same old line while huddled under an umbrella, determined to have a good time: "oh, you should have come last week, the weather was glorious!".
Uluru doesn't get much rain, when we went there hadn't been much for the last few months. However, it didn't take long after we had touched down before the storm clouds moved on in. Local workers stared in disbelief as the rain lashed down. We, on the other hand wondered why we had been so foolish as to only pack warm weather gear. For the remaining days, the weather was typical of a desert climate, hot in the day, cooler at night with clear skies throughout.
Food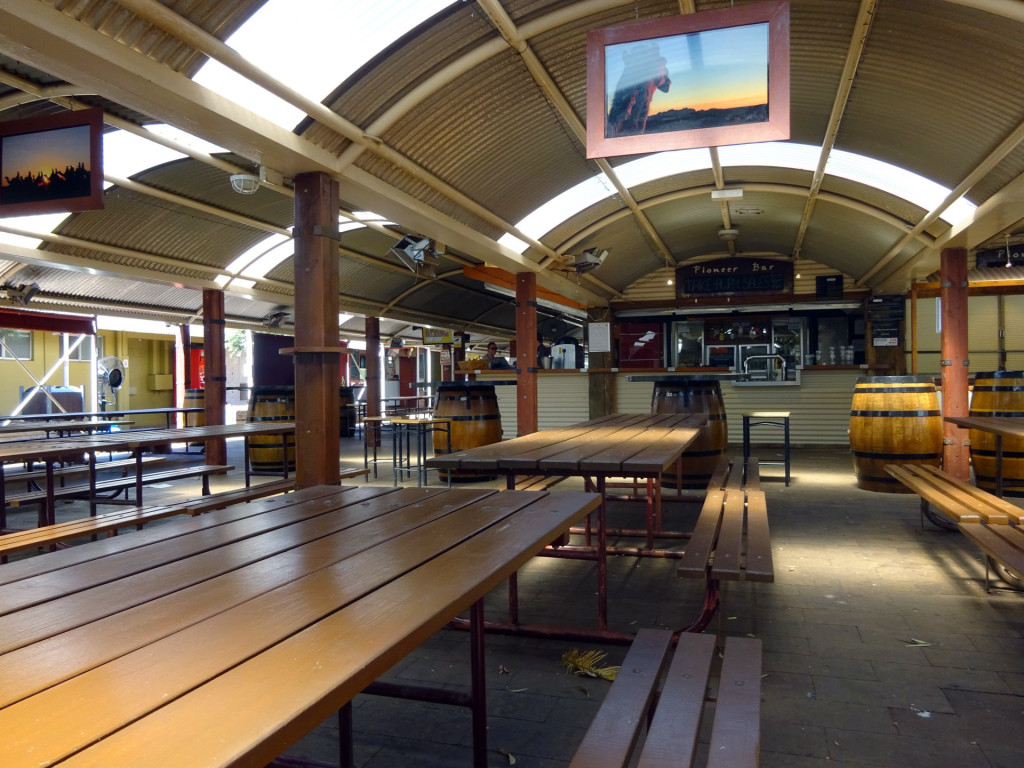 As any vegetarian who has been to Australia will tell you, vegetarian options are limited and this is even more acute in Uluru. My wife was shocked to discover that a kebab made up of just capsicum, onion and mushrooms cost almost 1,000 rupees! To add salt to the wound, she would have to cook it herself as we had opted for the do-it-yourself barbecue at the hotel.
For carnivores, Uluru offers a plethora of eating options including kangaroo, crocodile and emu. For the record, crocodile can only be described as tasting like fishy-chicken. There's also a supermarket in the resort so provisions can be purchased and cooked in the communal kitchens in the campsite and Outback Pioneer lodge.
Experiencing the Sunrise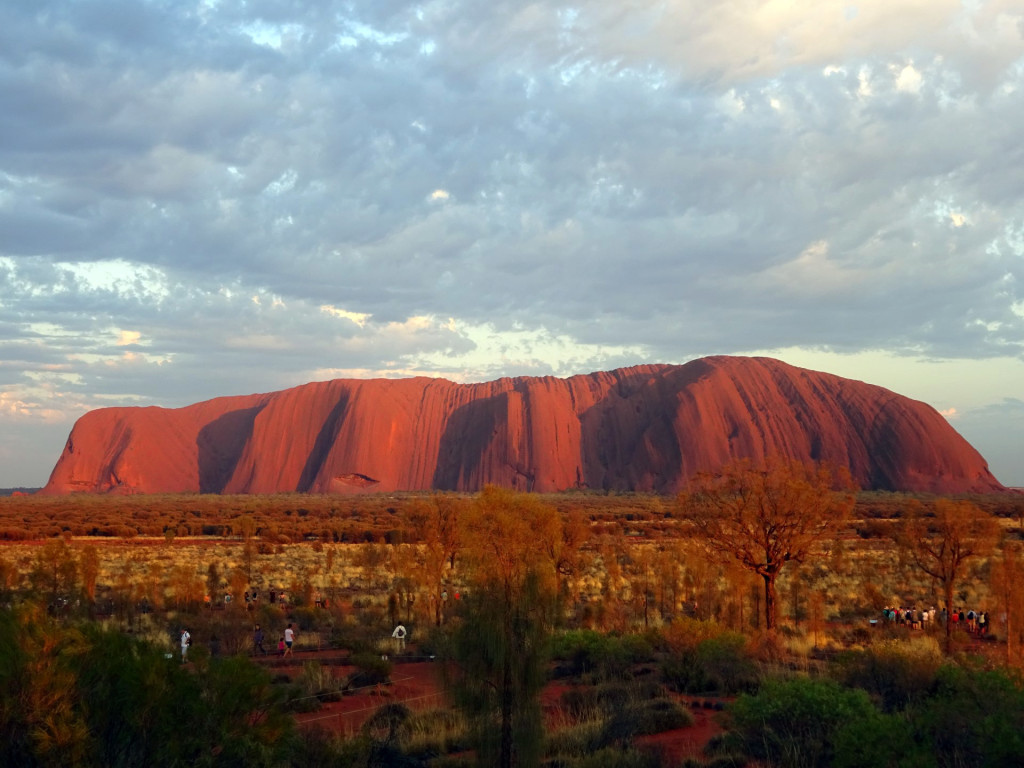 The biggest problem with visiting Uluru is that all the good stuff happens so early in the morning. My sister, who isn't as concerned with early mornings as she is with communal showers, bullied all of us in to agreeing to be ready to leave the resort by 4:30am the following morning.
We had to drive into the national park and experience the sun rise which would occur at 6am. Since we had a car it was easy enough to drive to the park and pay the AUD$25 per person fee to enter when it opened at 5am. For people without a car, they had to pay AUD$69 for the bus trip plus the park entrance fee.

We made our way to the sun rise viewing area – you're not allowed to stop anywhere on the roads, no matter how good the view might be and joined a forest of cameras mounted atop tripods. As the day broke, a shadowy mountain looms out of the darkness. Before long we are witness to a magical light show as the sun's rays dance across the red rock, changing its colour and appearance with each passing minute. The rising sun is also a cue for the flies to wake up. No one tells you about the flies in the Uluru travel guides so I will.
The flies will stick to you like glue.
Why are there so many flies in Uluru?
I'm not sure, but one theory says that the flies breed in the dung of the 26.6 million cows (that's more cows than humans living in Australia!), and then go looking for moisture. Your sweaty body is like a meals on wheels for the flies.
There are two things you can do about the Uluru flies. You can swat away at them like a crazed mad man, or you can get yourself a fly hat and suffocate under the net. What you can't do is ignore them.
Kata Tjuta
About 50KM from Uluru is another rock formation called Kata Tjuta. Less famous than its larger brother, Kata Tjuta is no less impressive. Having experienced the flies from the night before and in the morning, my wife and I decided to buy fly nets which you slip over your hat. As my father helpfully pointed out, we looked like right twits, but hey, there were no flies on us. At AUD$15 for two, the fly nets were possibly the best thing we purchased on our entire trip.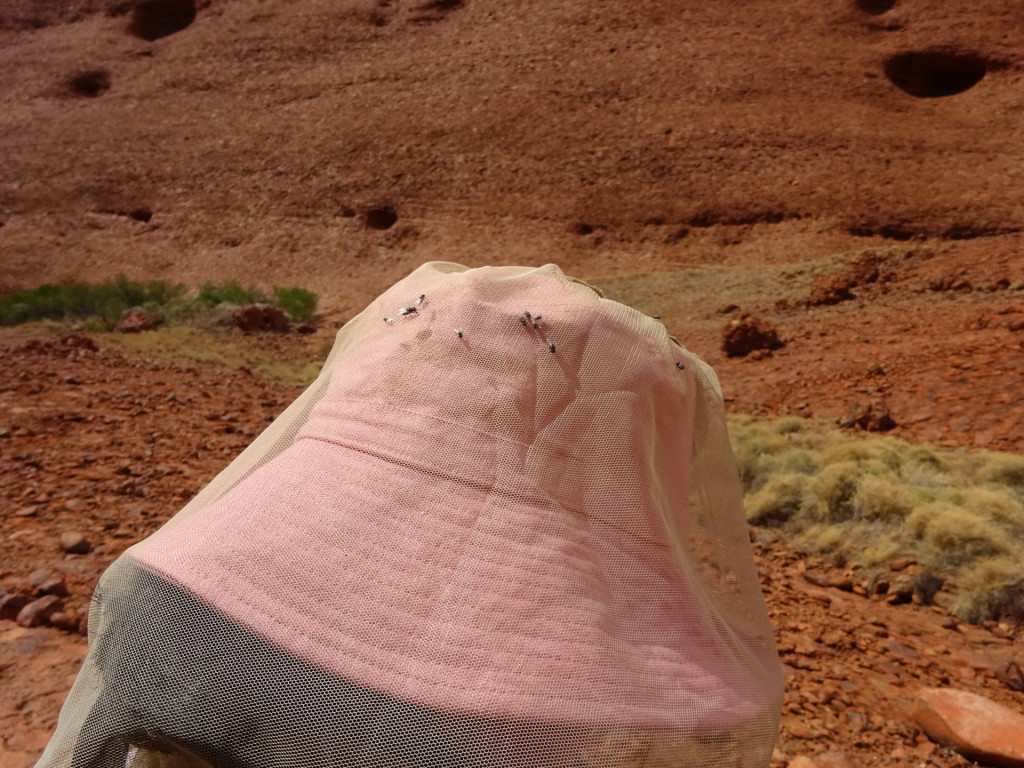 Kata Tjuta has many different trails that you can take but the easiest one takes about an hour as you walk between the rocks and across the red landscape. It feels like you are on the set from The Martian and Matt Damon might step out at any minute.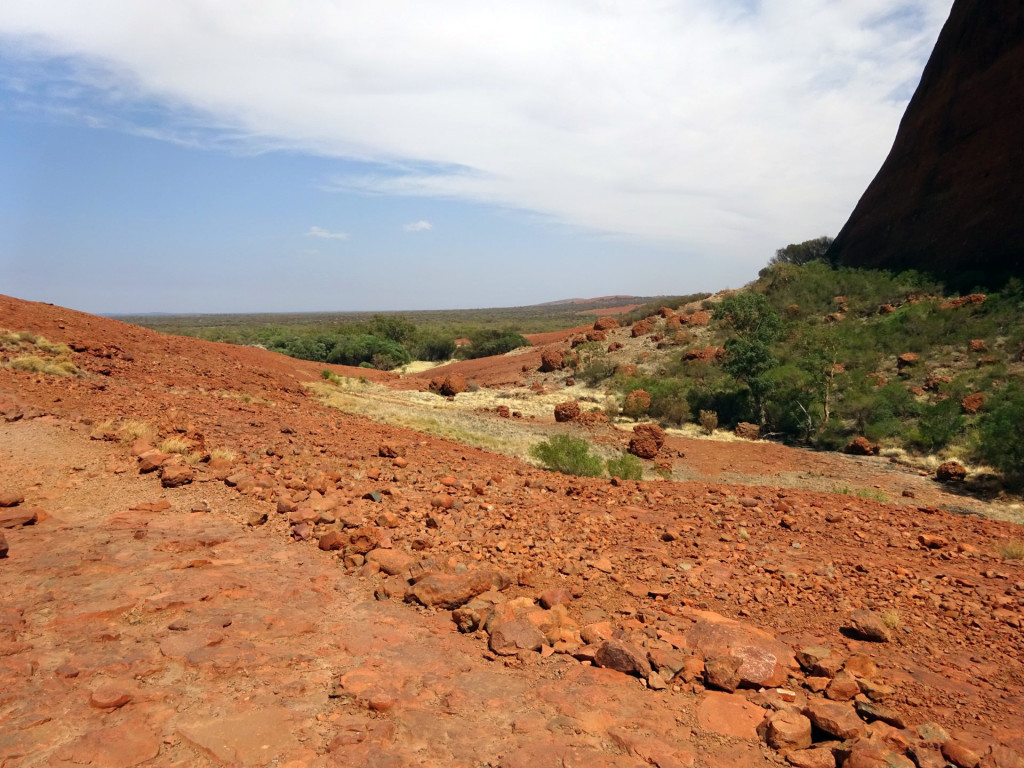 From far away the rocks look like one giant boulder but as you get closer you realise that it's made up of billions of stones cemented together over time.
The Sounds of Silence
To be fair, there is never complete silence around Uluru. You're never more than a few seconds away from the camera click of another tourist taking a photo. However, the Sounds of Silence dinner does come pretty close. At AUD$195 per person it doesn't come cheap but it offers four hours of an unforgettable experience.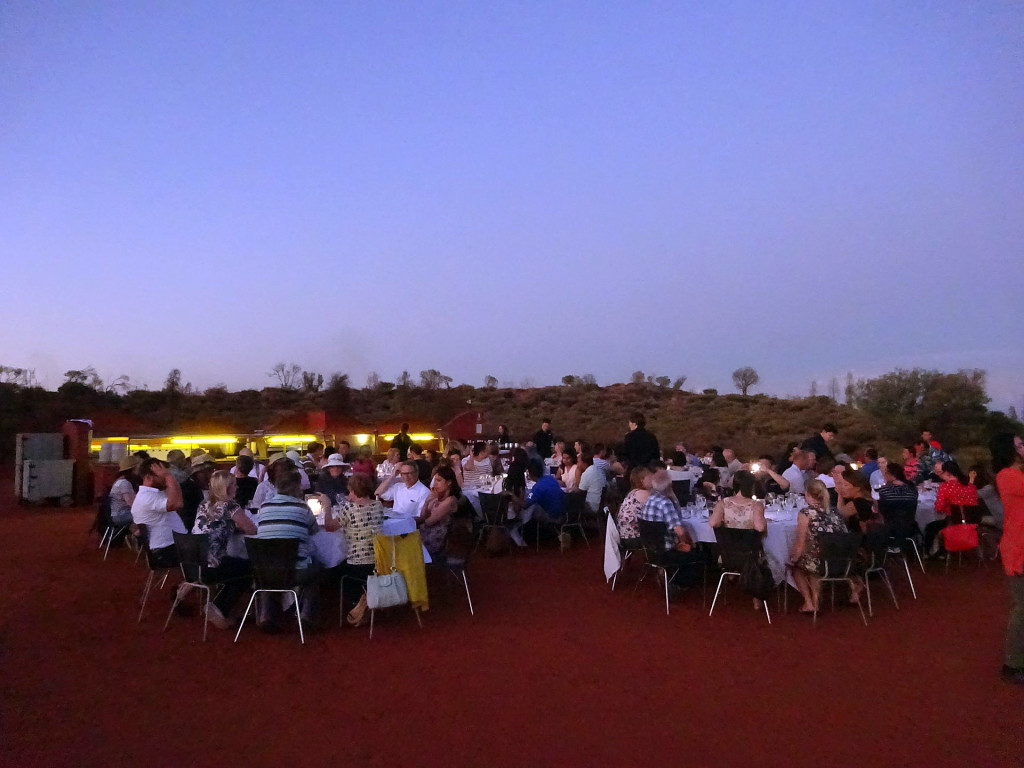 Fortunately for us, this was a treat from my parents – one of the great advantages of travelling with family! You get to experience the sun setting over Kata Tjuta in the distance while the dying rays paint new pictures across Uluru every second. We were seated on tables of ten which we were to be sharing with a German family. English and Germans together on the same table for three hours, what could go wrong? Just don't mention the war.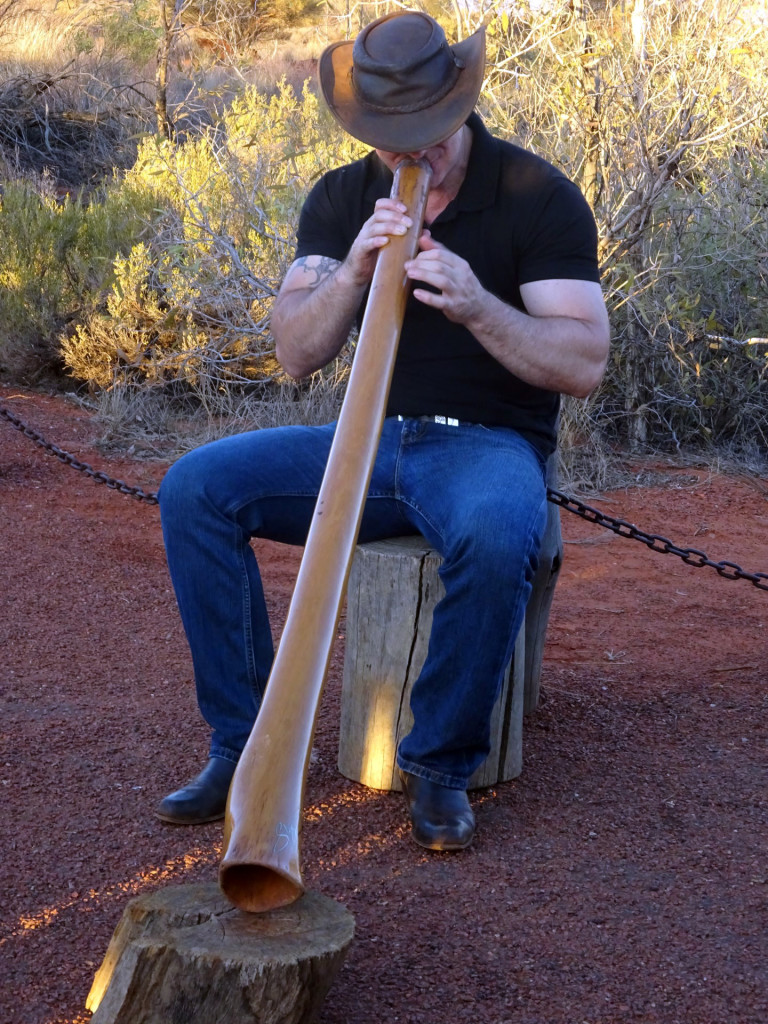 The wine flowed as we got up time and again to help ourselves from the extensive buffet that had been rustled up in the outback. My vegetarian wife shed a tear or three when she found out there was rice on the buffet, something she had been missing since we had left India 8 days ago. As the sun went down the stars came out and what a sight it was to behold.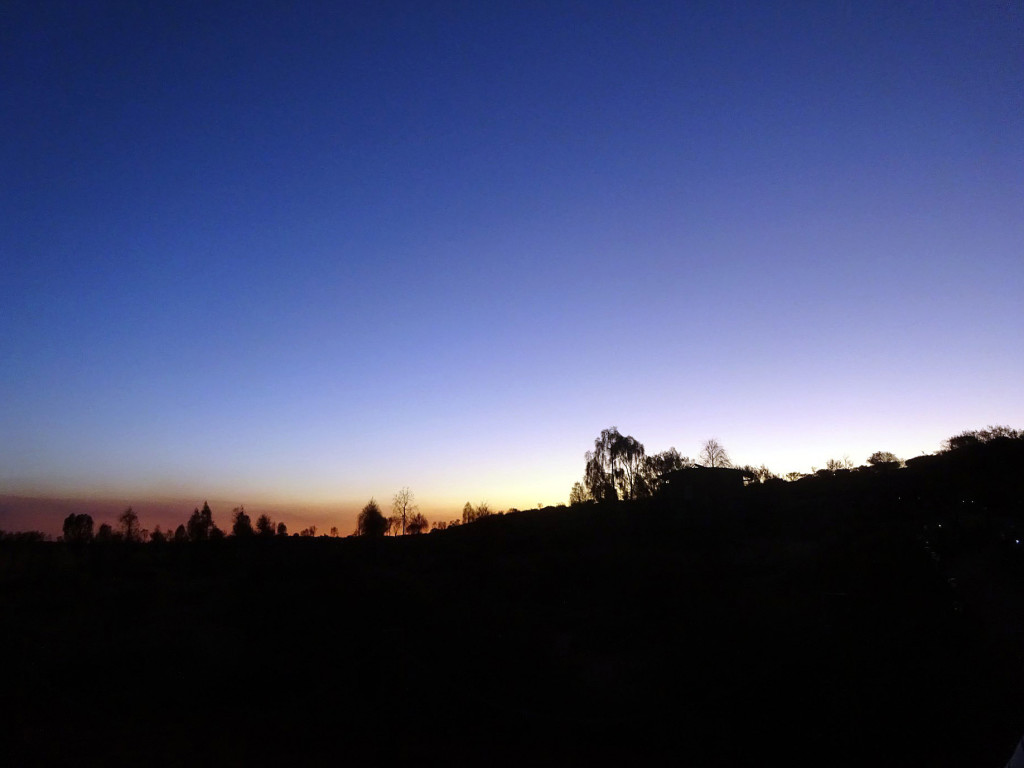 Never before had I seen the night sky lit up by so many stars. It was so clear that we could pick out each constellation, multiple planets, far off galaxies and even our own Milky Way, just to put things into perspective.
The Morning Walk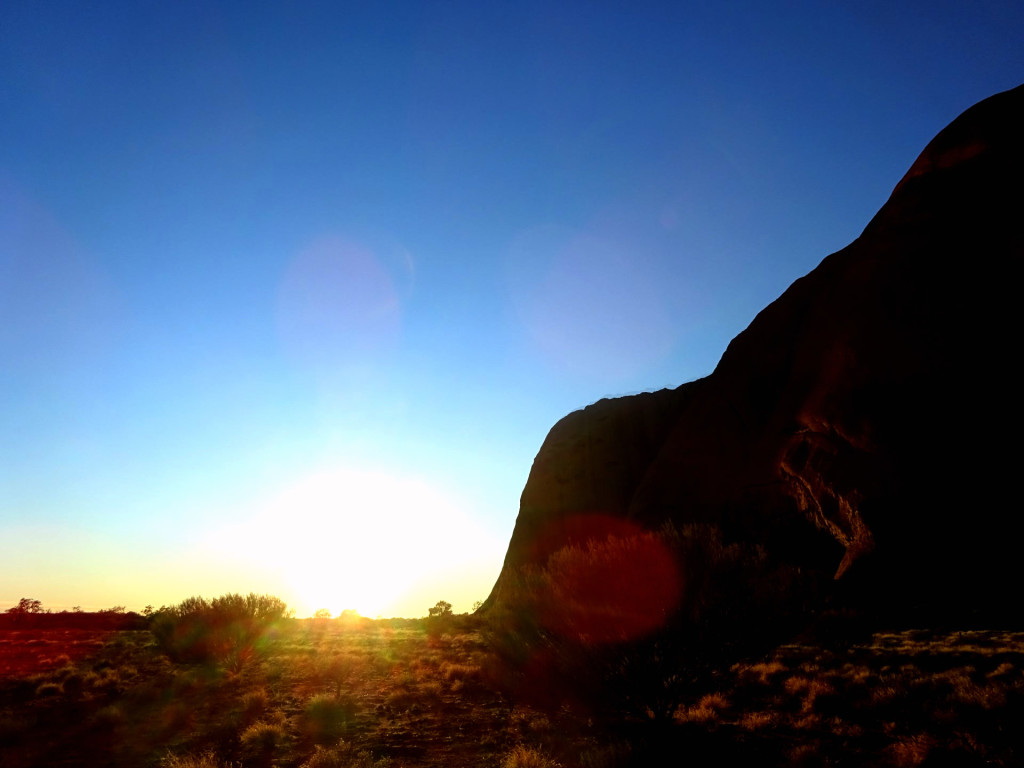 Determined to make sure that we all got the most from our time in Uluru, my sister enforced another 5am start so that we could walk around the base of the rock. The 12KM trek started at 6am just as the sun was rising so we had the light and had time before it got too hot to be outside. The travel guides recommend you take 3 to 4 hours to walk around the base of Uluru but my family seemed to take that as a challenge. Everyone else set off at warp speed, batting flies from their faces, leaving me and my wife straggling behind, fly nets on but with the opportunity to appreciate our surroundings.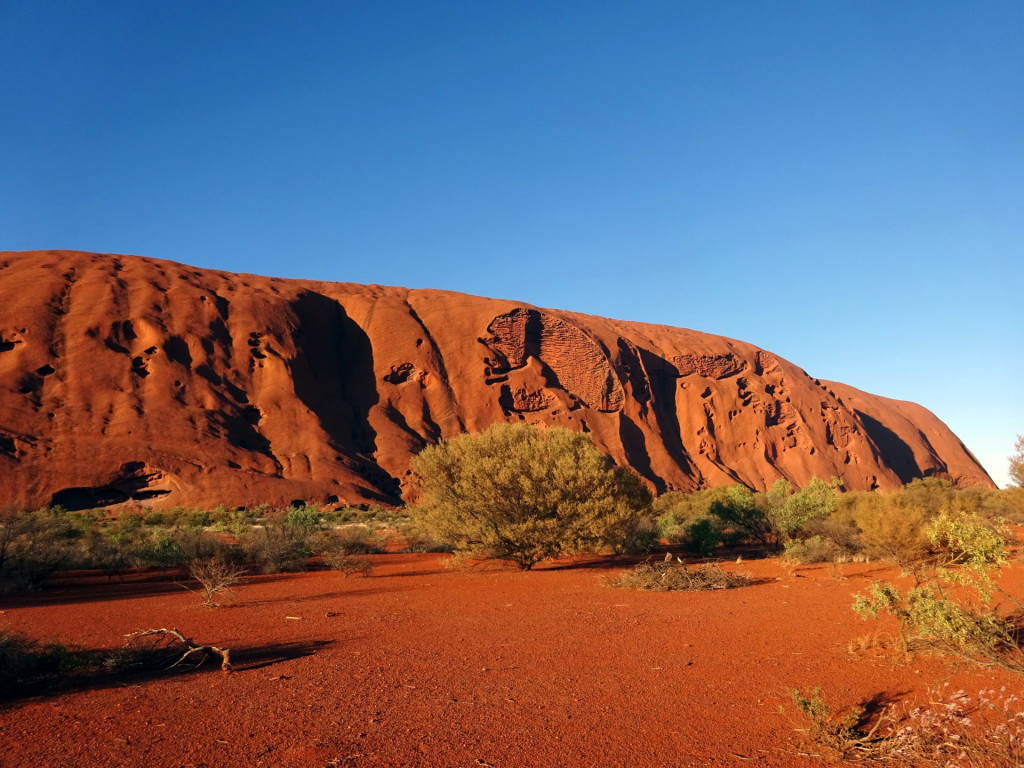 As the sun rises, the light changes the way the rock appears with every second. When we looked back behind us, we got a whole new perspective on the place. By the time we had finished the walk at 8:15am, the sun was already making its presence felt and the temperature was rising.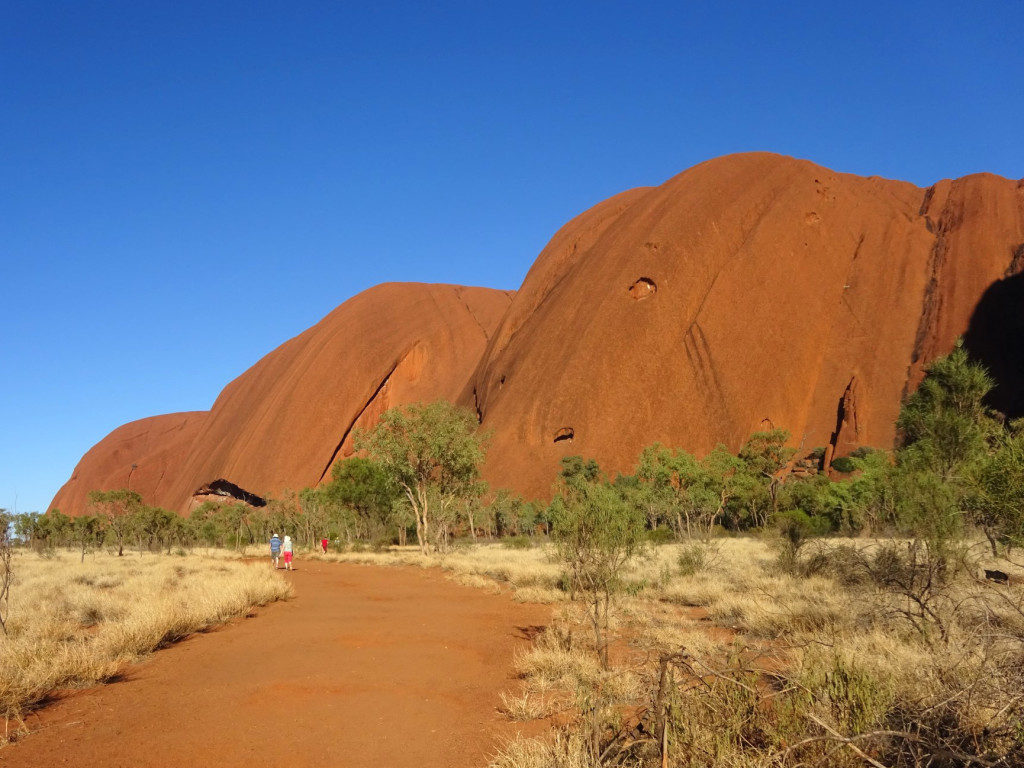 My wife, who had subsisted on cheese and grilled vegetables since we arrived in Australia, was famished after the walk. She decided that it was worth paying AUD$35 for the buffet breakfast and wolfed down three plates of eggs, beans, pancakes, hash browns and mushrooms.
Top Tips:
Accommodation: Visit the ayersrockresort.com.au website to find accommodation – there are no other accommodation options in Uluru so no amount of searching on Expedia is going to help you!
Food: Plenty of eating options available, including communal kitchens if you want to cook yourself. Vegetarians will struggle though unless your hunger is satiated by grilled veggies.
Travel: Visit jetstar.com for daily flights to Uluru starting at AUD$380 return. You can rely on the tour buses but the cost is high and they are not flexible. Hiring a car is more cost-effective.
Packing: The weather is nearly always dry and very hot. Pack a jumper for the evenings when it can cool off.
Advice: Buy fly nets to slip over your hat. Ensure you have sun cream because the harsh sun light doesn't spare anyone, regardless of skin colour. Drink plenty of water, refill instead of throwing away your bottles.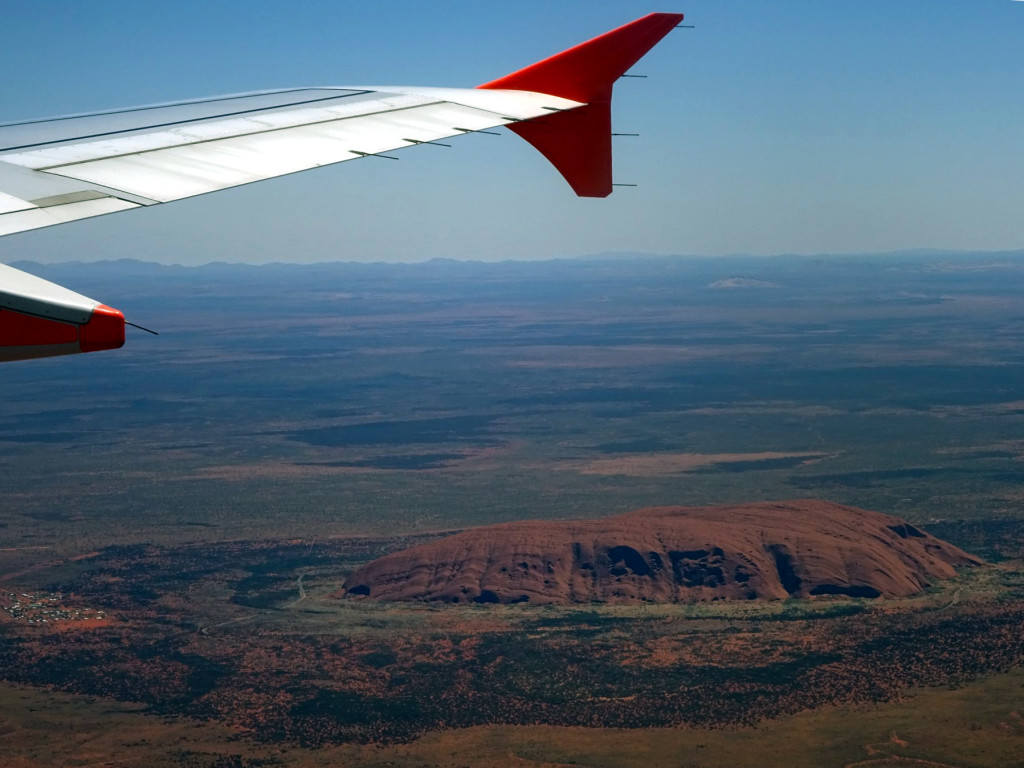 A version of this article first appeared in the New Indian Express Indulge magazine on 4th December.