You know, after two and a half years (flipping heck!) in India, I really shouldn't be finding the hodgepodge approach to the English language funny anymore, but every now and then I feel compelled to photo and share some of the unique ways English is being used here in India.
The photo below was taken from a nice little vegetarian restaurant around the corner from my apartment that I went to last night. I can't believe I've not been before because it was really cheap and the food was good. My whole meal, which included a dessert and coffee (I know, I really went crazy) came to Rs 155 – about £2.20.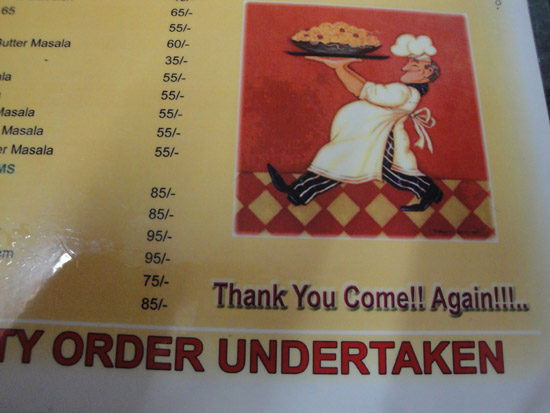 As a sidenote, I've been here so long and seen first hand just how expensive things can come when you have double digit inflation. Two years ago the meal would have probably cost about £1.80 – so nearly a 25% increase. You know things are getting bad when the middle classes start to complain about how expensive things are getting.